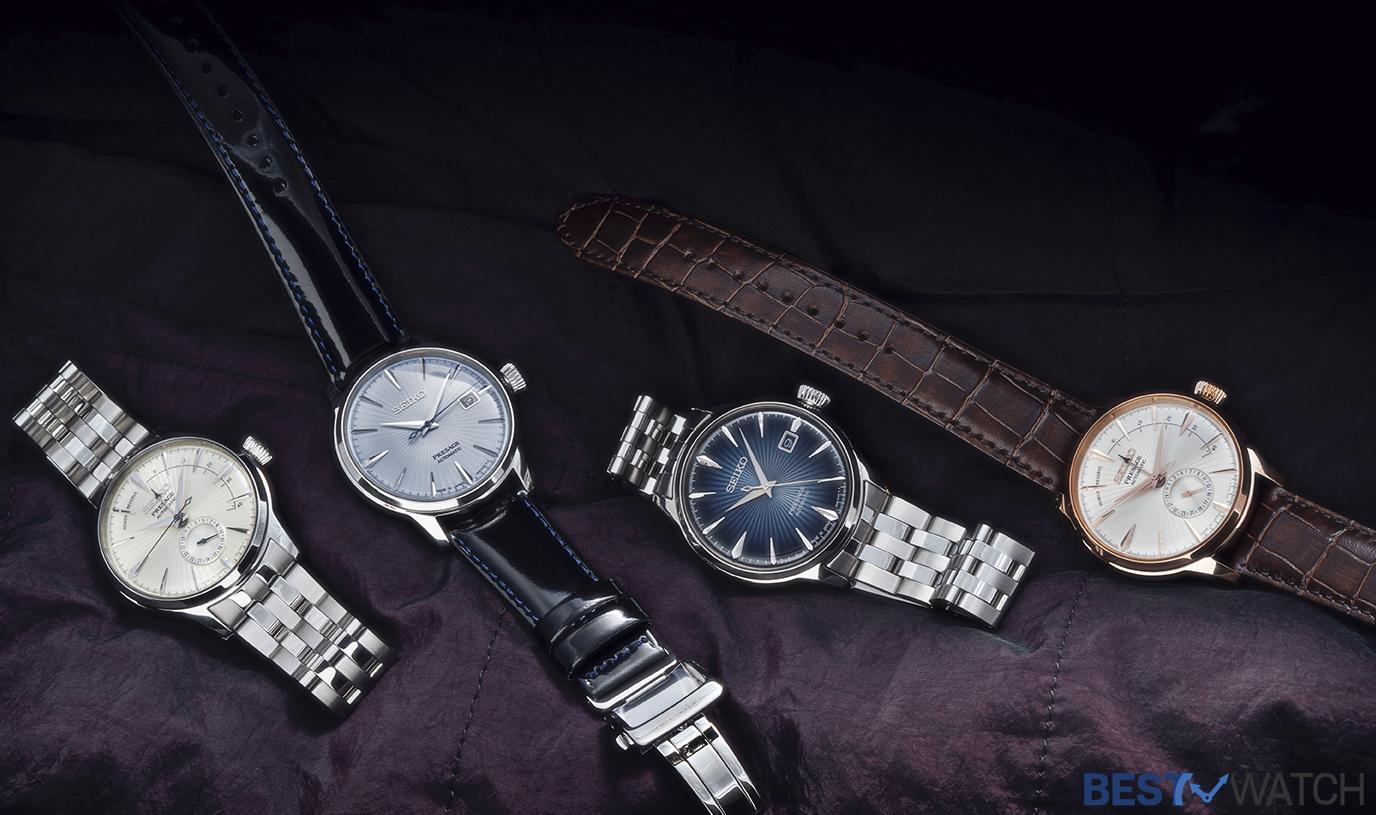 With its origins dating back to 1881, Seiko is the only watch manufacture with an all-round experience in various timekeeping technologies like Mechanical, Kinetic, Quartz, Spring drive, Digital, Solar, Radio-controlled and GPS. One of the largest watchmaking companies in the world, it makes all types timepieces, stretching from utilitarian quartz models to premium ranges like Credor and Grand Seiko.
At present, the Seiko flagship collection for the global market is comprised of Astron, Lukia, Premier, Presage, Prospex and Seiko 5 Sports. Appeared in the international market in 2010, the premium label 'Grand Seiko' has been evolved into an independent brand. The other notable creations from the company under the Seiko brand are Brightz, Conceptuals, Coutura, Criteria, Diamonds, Dolce & Exceline, Lord, Quartz, Selection, Solar, Spirit, Sportura and Vivace. It is to be noted that some of these outstanding collections are available in selected regions only.

Seiko in Singapore
One of the prominent commercial hubs in the modern world, Singapore is a leading market of luxury watches after China, USA, Hong Kong and Japan. The country is also a premier destination for buying wristwatches. During its gradual emergence as an international trade centre in the 1960s and 1970s, Singapore became a major retail hub of lifestyle products and watches from all over the world. Since then, the Japanese watchmaker has been enjoying a good market presence here. Today, Singapore hosts several boutiques in the esteemed shopping centers and online stores that sell Seiko watches along with other international brands.
As a global corporation, Seiko's profound connection with the affluent nation is not only limited to the brand's commercial activities; it also maintains a manufacturing facility there. Founded in 1973, Singapore Time Pte Ltd was the first overseas subsidiary of Seiko. Since 2020, the Seiko Singapore branch has been known as Seiko Manufacturing (Singapore) private limited. It manufactures some of the brand's timepieces along with its subsidiaries in Malaysia.

Buying a Seiko in Singapore
Although Seiko rose to fame in the international market with the advent of quartz technology in the 1970s, the company is a major player in mechanical watchmaking. In recent years, the Japanese conglomerate has undertaken several steps to develop its presence in the production of mechanical wristwatches. The most important among them was the successful development of Grand Seiko as an independent and premium brand. The subsequent step was the regrouping of other collections under the Seiko brand to cater various categories of customers.
A leading centre for international trade, Singapore offers the opportunity to purchase most of the Seiko watches, including the models that are not yet officially launched in the other global markets like Europe and the Americas. Each collection from the brand has its own distinctiveness. For beginners, it is the best brand to explore various timekeeping technologies within an accessible price range. 
Seiko offers timepieces for all types of customers, like adventurous enthusiasts, fashionistas, professionals, sports persons, technology geeks, traditional horology lovers and etc…

Popular Seiko Collections 
(1) Seiko Prospex
The Prospex range is comprised of various professional sports models. Based on the latest grouping, the Prospex line includes three core families: SEA, Land and Sky. 
This specialised collection offers best-selling diving timepieces with nicknames like Monster, Turtle, Tuna, Samurai, Shogun, Sumo, Willard as well as special watches such as PADI and 'Save the Ocean' editions. The Seiko Prospex Dive watches come under two groups: Diver Scuba (with 200m water resistance) and Marine Master Professional (with 300m, 600m or 1000m water resistance). The selling price of the Prospex diving watches usually starts at S$ 500 for entry-level models.

In the Seiko automatic diver category, the cost of versions equipped with 6R series movements is higher than those with 4R calibers. For example, a Prospex 200m watch with a calibre 4R35 or 4R36 comes within the retail price range from S$ 500 to S$ 1,000, whereas a similar model with 6R15 or 6R35 costs above S$ 1,000. The Seiko automatic divers with water-resistance of 300 meters and above come in a retail price range of S$ 1,000 – 5,000. In the diving watch segment, the value of the anniversary and special edition models could reach up to S$ 7,500. Seiko Prospex spring-drive divers usually retail above S$ 4,000.
If you are searching for less expensive Seiko Prospex Dive watches, the brand offers a number of models fitted with Kinetic, Quartz or Solar movements. Usually, these timepieces are available for purchase in the price range from S$ 350 to S$ 1,000. 

In the 'SEA' category, the series also includes some Seiko chronograph watches. Among them, the Solar movement models typically sell in S$ 450 – S$ 700 range, whereas automatic versions cost above S$ 3,000. 
The 'Land' segment of Prospex is comprised of precise wristwatches that are reliable and robust enough to wear while performing adventurous activities or military operations. Notable models are the Landmaster, the Fieldmaster and the best-selling Seiko Alpinist. Equipped with automatic or solar movements, these watches are available in the price range of S$350 – S$ 1,000.

(2) Seiko 5 Sports
Recently revamped, the Seiko 5 Sports collection is comprised of modern and trendsetting automatic wristwatches. These entry level mechanical timepieces highlight designs inspired by the brand's iconic diving and military (field) watches. This best-selling range offers five distinct styles: Sports, Suits, Specialist, Street and Sense.

Driven by 4R series automatic movements, Seiko 5 Sports watches are available in an affordable price range starting from S$ 300 to S$ 700. In this successful series, the brand is also offering various collaborative editions like Guccimaze, Naruto & Boruto, Street Fighter and Brian May's Red Special. Seiko 5 Sports is an ideal daily-beater watch for a budget conscious consumer.

(3) Seiko Presage
This exceptional range artfully combines the traditional techniques with the technical advancements brought in by Seiko in the field of mechanical watchmaking. The iconic Japanese brand has been renowned for its innovations like Magic Lever, highly durable Spron alloy springs and the Diashock protection system. Proudly boasting a watchmaking legacy of more than a century, Presage watches are driven by Seiko's in-house developed movements endowed with the proprietary features mentioned above.
Equipped with 4R, 6R or 8R series automatic movements, these exemplary mechanical timekeepers are available an impressive range of dials, including enamel, textured and porcelain. The entry-level Seiko Presage watches are available within an attractive price range of S$ 500 – 1,000. The models with complications (power reserve, GMT or chronograph) usually retail above S$ 1,000.

(4) Seiko Astron
When Seiko launched the world's first quartz wristwatch in 1969, it revolutionized the global watch industry. In 2010, the company launched the world's first GPS Solar watch. Driven by a proprietory technology with superior features, it has heralded a new era in the precision timekeeping. 
Named after the iconic quartz watch, Astron GPS watch synchronizes its time according to the Coordinated Universal Time signals transmitted via the network of Global Positioning Satellites. These timepieces also offer a multitude of practical functions like chronograph, perpetual calendar and world time. It is an ideal multifunction watch for professionals, sophisticated travelers and tech-savvy customers. In Singapore, the retail price range of Seiko Astron GPS collection is approximately S$ 1,600 – S$ 4,000.

(5) Seiko Brightz
The Brightz range is comprised of radio-controlled wristwatches that seamlessly combine contemporary designs and luxurious details. Available in stainless steel and titanium versions, these exceptionally accurate timepieces synchronize with reference signals from terrestrial radio stations. These watches are available in certain regions only. The retail price range of Seiko Brightz in Singapore is S$ 650 – S$ 2,000.

(6) Seiko Lukia
Launched in 1995, Lukia is a stylish watch collection dedicated to fashionable women. Initially restricted to the regional market, these magnificent ladies' wristwatches are now available worldwide. Endowed with luxurious details and ultra-feminine features, these timepieces are equipped with Automatic, Quartz or Solar movements. The collection offers various case shapes, dial designs, straps and metal bracelets. The retail price range of regular models is S$ 600 – S$ 900. Its gem-set variants typically cost higher than S$ 1,000.

(7) Seiko Dolce & Exceline
Dolce and Exceline are two interlinked collections that offer elegant dress watches for men and women respectively. For each Seiko Dolce model you will find a similar feminine variant in the Exceline series. These Seiko watch models can be purchased as a pair or single piece. Depending upon the model, the movement can be Quartz, Solar or Radio sync solar. The approximate retail price range is S$ 650 – S$ 1,500.

(8) Seiko Premier
An elegant dress watch collection from Seiko, this series offers Kinetic drive, mechanical, quartz and solar wristwatches. It is comprised of both gents and ladies timepieces. A popular watch in the Kinetic drive segment is Kinetic Perpetual, which usually retails in the price range of S$ 1,000 to S$ 1,200. The Premier line also offers mechanical watches equipped with 4R series movement. Among these, the open-heart model with the 4R39 movement costs around S$ 800. Both quartz and solar models are available within the S$ 500 – S$ 800 range.

Read More :