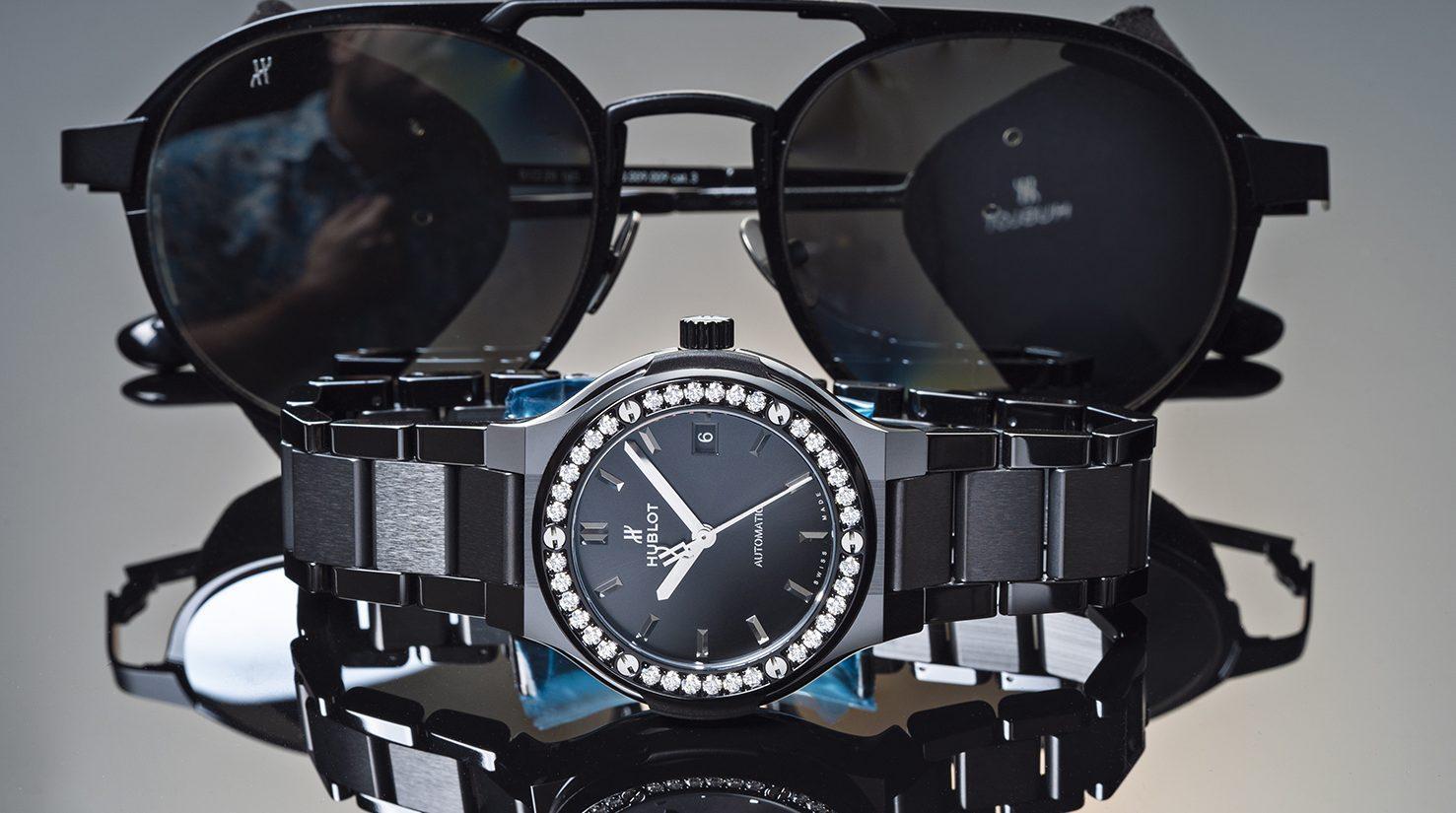 Unlike most of the Swiss watch brands which debuted in the primeval periods, Hublot Company was born just recently when modernization and new technology have already expanded. Surprisingly, the Switzerland-based watchmaker has earned itself an utmost reputation in horology due to its extraordinary sophisticated collections like Hublot Classic Fusion and the Spirit of Big Bang. 
Under these two collections, the renowned watchmaker has been able to combine its novel craftsmanship with first-rate inventiveness, leading to the creation of ultra-modern luxury watches. These watches are truly lovable to many due to their ornate design and high reliability in precision. 
Since we've already touched a little on the prestigious King Gold watches, on this article I'll share with you on the most-rated Titanium Hublot models. In case you didn't know, titanium's sturdiness, high resistance to corrosion, as well as high temperatures are dearly valuable in many fields and industries. In both its natural form and also as an alloy, the metal is widely used in naval ships, aircraft, spacecraft, and even armor-plating. 
So, you can imagine how worthy your wardrobe will be with a classic watch like the Hublot Classic Fusion Titanium 542.NX.1171.RX in the watch case.
#5 MOST-RATED HUBLOT TITANIUM WATCHES

CLASSIC FUSION AEROFUSION TITANIUM BLACK-Ref. 525.NX.0170.LR
If there's a field that Hublot is great at, let me say it's skeletonizing their movements and dials. This is one of the major aspects that has supported the iconic brand in sophistication artistry, as with the 525.NX.0170.LR Classic Fusion which features a Self-winding Skeleton movement.
For the men with a taste of humongous girth, this Hublot model has a 45mm polished titanium case and a Satin-finished titanium bezel. To ensure it is firm and steady to support the antireflective sapphire crystal, the bezel has an additional 6 H-shaped screws which are made of titanium as well. 
With its HUB 1155 skeleton movement, 525.NX.0170.LR Classic Fusion watch is exquisitely precise in hour-time and chronograph features. Only that you will need a big eye to tell the time in dark backgrounds since its silvered hands and hour indicators are not luminesced.

HUBLOT CLASSIC FUSION OPALINE DIAL TITANIUM WATCH- Ref. 511.NX.2611.LR
For the business class, classic and modish watches are usually the majors. Luckily, Hublot has crafted one with titanium that can serve your professionalism impeccably, whilst remaining as your luxury timepiece. 
Simple-but-luxurious, 511.NX.2611.LR Classic Fusion watch presents an exceptional design that's superlatively adjustable with both dull and bright apparel. Following its black hypoallergenic alligator straps and the white Opaline dial that has been encased with the 45mm Satin-finished titanium case. 
To enhance the robustness of your trend, this Hublot Classic Fusion model has a polished bezel and 6 screws which are made of titanium as well.
For functionality, you don't have to worry at all with 511.NX.2611.LR on your wrist. The HUB1112 self-winding movement it houses can run for 42-hour minimum nonstop, providing you with high-precision of time and date at the 3 o'clock marker.

HUBLOT CLASSIC FUSION BLACK DIAL TITANIUM- Ref. 511.NX.1170.RX
Apart from appearance, this Hublot model is quite similar to the 511.NX.2611.LR we've just discussed. It's one of the starters that pioneered the Hublot Classic Fusion watch line back in 2010. 
As a classic "Hublot Big Bang design", 511.NX.1170.RX watch has a sturdy titanium bezel and a 45mm outer casing that is made of titanium too. This helps sheathe the self-winding HUB 1112 caliber and the matte black dial with the Hublot Geneve signature beneath the 12 o'clock marker.  
Since the motive with the Hublot Classic Fusion was to simplify the Big Bang collection, 511.NX.1170.RX features skeletonized rhodium-plated hands. Along with a sapphire crystal case back which allows you to witness as some of the movement's 25 jewels harmonize to produce the long-awaited tick. 
Unlike its counterpart which has a black alligator strap, 511.NX.1170.RX Hublot Classic Fusion Titanium watch comes with a black rubber strap. This makes the watch a multifaceted model and usable professionally, as well as for adventures on land and water ( 50M waterproofed). 

SPIRIT OF BIG BANG GREY TITANIUM CHRONOGRAPH- Ref. 601.NX.0173.LR
Although this model appears to be classic, I won't say it is, since it's as intricate as its brothers and sisters in the celebrated Big Bang collection. In fact, the major difference amongst them is case nature. 
With an aim to snatch Cartier its iconic Tank-design title, 601.NX.0173.LR SPIRIT OF BIG BANG features a tank-shaped Satin-finished titanium case with a polished micro-blasted titanium bezel. From its crystal clear sapphire dial, the HUB 4700 chronograph movement is notably visible as it continues with its magic.
For those who cherish luxury watches for their complication, this model serves your liking optimally. In fact, Hublot has designed it so intricate that it can confuse you at first with its chronograph and date functions from the skeletonized date wheel.
To support its 100 m waterproofness, 601.NX.0173.LR SPIRIT OF BIG BANG has large luminesced hour indicators and Rhodium-plated hands. Thus, easily readable even in the dark-blued sea depths.

HUBLOT SPIRIT OF BIG BANG TITANIUM WHITE DIAMONDS- Ref. 665.NE.2010.RW.1204
All men are never born equal, thus, I believe all tastes are never similar as well. 
Classic. Ornate. And still reliable. This watch is a blend of various Hublot watches, together with "Cartier tank design" which features a rectangular case and seamless connection of the white rubber straps. On its 39mm Satin-finished titanium case, the wristwatch has a polished titanium bezel with a 50-diamond setting for extra brilliance and ultra-luxury. 
To ensure the bright splendor is retained even at 100m sea-depth, the white matte dial of the 665.NE.2010.RW.1204 watch has large luminesced hands and hour indicators. This attribute is essential for other dark backgrounds as well. 
Running with a powerful HUB1710 automatic movement, this titanium watch is capable of reserving power for up to 50 hours. While still presenting you with high-precision of time and even date at 6 o'clock.
Conclusion:
To ensure its eminent reputation is maintained optimally, Hublot is staunchly dedicated to changing the realm of horology using its intricate artistry and cutting-edge innovation. So far, its various luxury watches have managed to surpass even some of the oldest watchmakers. As with the Hublot Classic Fusion and the Spirit of Big Bang collections which feature a variety of precious metals like the exclusive King Gold and the non-corrosive Titanium.
Read More :