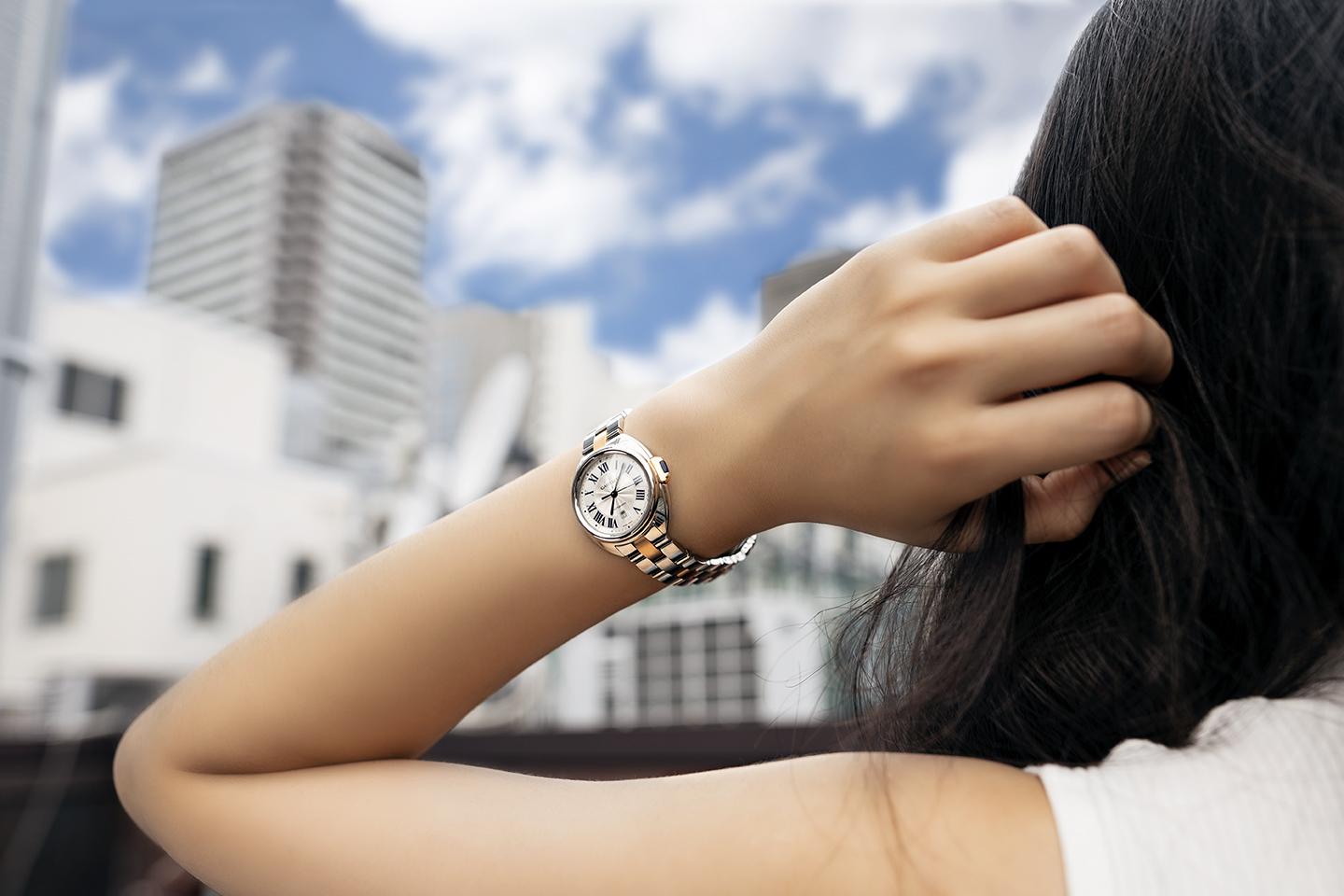 In addition to their time-keeping functionality, watches have been considered as ideal accessories for representing the status or style of a person. Soon after the First World War, the wristwatch became a must-have lifestyle accessory for everyone. Accordingly, to capitalize on this opportunity, several Fashion brand companies have ventured into watchmaking. Among them, some couture houses have succeeded to establish their own manufacturing facilities.
The fashion brand industry is comprised of various segments, ranging from affordable casual clothing and lifestyle accessories to high-priced haute-couture creations. In the Fashion watch sector, you will find independent designers, ingenious labels and prestigious luxury fashion brand.

In this section, we bring to light five iconic Maisons with impressive capabilities and technical know-how in producing excellent and stylish timepieces. According to the Fashion brand ranking, they constitute an exclusive group of the 5 most venerable luxury houses with an impressive watchmaking heritage.
Chanel
Chanel was founded by Gabrielle Bonheur "Coco" Chanel in 1910. The Neuilly-based French haute-couture fashion brand has been known for popularising sporty, casual chic designs. In 1987, the first Chanel watch was introduced. Appropriately named Première, this model featured a distinct dial design inspired by the shape of the N°5 perfume bottle cap. In 1990, the Mademoiselle watch was unveiled.
Presently, the luxury fashion brand's flagship collections are J12, Première, Boyfriend, Code Coco, Mademoiselle Privé and Monsieur. Chanel also offers magnificent jewellery timepieces like N°5, Camelia, Comète, Plume De Chanel, Ruban, Sous Le Signe Du Lion, Coco Crush and Matelassée.

Introduced in 2000, J12 is the first sports watch from Chanel. The brand utilises highly resistant ceramic (black or white) and stainless steel for manufacturing cases and bracelets of J12 watches. They are available with high-precision quartz movement or exceptional mechanical calibres with automatic or manual-winding mechanisms. Debuted in 2003, the Chanel j12 watch in white ceramic introduced a new category of luxury watches. The present generation J12 automatic watches are equipped with KENISSI movements.
This extensive collection offers both gents and ladies' timepieces with various case sizes: small, medium and large. The J12 series includes basic time-only watches as well as complication timepieces featuring chronograph, second-time zone or tourbillon. The Boyfriend is a stylish rectangular watch from the house of Chanel. This series offers both quartz and mechanical wristwatches. It is comprised of ceramic, gold and steel watches in small, medium and large segments.
Launched in 2016, MONSIEUR is driven by the very first in-house mechanical movement developed by Chanel. In 2017, the stylistic Code Coco watch was introduced. In 2019, the company became a stake-holder in Swiss movement manufacturer KENISSI. In the same year, the J12 white ceramic watch won the Grand Prix d'Horlogerie de Genève Award in the Ladies category.

Chanel timepieces are available in a retail price range starting at SGD 6,000. Among these, some exclusive creations and diamond-set watches cost above SGD 100,000.
Cartier
Cartier is a French luxury goods conglomerate founded by Louis-François Cartier in Paris in 1847. A wholly-owned subsidiary of the Swiss Richemont Group, it is one of the most prestigious jewellery Maisons in the world.
Cartier's design studio is located in Paris. The company has its own production facilities in Switzerland for various manufacturing activities associated with full-fledged watch manufacture.
Cartier's watchmaking legacy dates back to 1904 when Louis Cartier designed a wristwatch for his friend Alberto Santos-Dumont, the Brazilian pioneer aviator renowned for his outstanding contributions towards the development of modern aviation. It marked the birth of the iconic Santos de Cartier watch. In 1919, the luxury house launched the emblematic Tank watch.

Presently, Cartier offers an excellent selection of luxury timepieces for both men and women. The significant collections from the brand are Ballon Bleu, Ballon Blanc, Drive, Pasha, Rotonde, Santos, Maillon, Tradition, Librere, Baignoire, Ballerine, Tank, Crash, Hypnose, Tonneau, Tortue, Clé De, Ronde, Calibre, Captive and Panthère. Among these, Maillon, Baignoire, Ballon Blanc and Panthère are dedicated Cartier watch women collections. The Cartier watch ladies range also includes high-jewelry secret models embellished with diamonds and other gemstones.
Depending upon the collection, Cartier wristwatches are available in 18-carat gold, stainless steel, black steel, bi-metal (gold and steel), platinum and titanium versions. The brand's product range includes wristwatches in various case sizes (small, medium, large and extra-large) and shapes like round, rectangular, cushion, square, tonneau and asymmetrical. They feature quartz, automatic or mechanical movements. The Maison also offers mechanical high-complication models like the mysterious double tourbillon watch and some dazzling diamond-set timepieces.

In Singapore, the retail price range of Cartier watches varies from SGD 5,000 to SGD 400,000.
Gucci
Founded by Guccio Gucci in 1921, Gucci is one of the most prestigious fashion brand in the world. The brand has been known for its Italian Dolce Vita. The Florence based luxury clothing and fashion accessories Maison ventured into watchmaking in the 1970s. Stamped with the world-renowned Swiss Made label, Gucci watches fuse Italian creativity with Swiss expertise.

Now the part of Kering Group, Gucci has its watch design studio in Neuchâtel, the manufacturing facility in La Chaux-de-Fonds and a dial production unit in Ticino. The brand offers ladies, gents and unisex timepieces. The prominent wristwatch collections are 25H, Grip, G-Timeless, G-Frame, G-Chrono, GG 2570, Interlocking, and Dive. 
The brand also offers exclusive Gucci watch women lines like Diamantissima and Horsebit. The Dive series includes some impressive Men's Gucci watch sports models.
All of them have their own distinctive case designs and aesthetic features. Equipped with automatic or quartz movements, all Gucci timepieces bear the Swiss Made label.
Capitalizing the manufacturing capabilities of Kering group, Gucci has also developed an in-house self-winding movement for its automatic 25H model. In the aesthetics side, the fashion brand generously incorporates its iconic designs and patterns on the case, dial and strap of every timepiece. The most popular motifs used in the watches are Bee, Snake, Tiger, Multi-icons, GG Interlocking symbol, Diamante and Stripe.
Gucci watch models come with stainless steel or gold PVD cases. The brand additionally offers some limited series models in 18K gold. All timepieces from the brand are fitted sapphire crystal glasses. They have a water resistance rating of 30 to 50 meters. Gucci's dive watches are tested for a water resistance of 200m (regular quartz category) and 300 meters in case of automatic diving model.

In Singapore, Gucci watches are available in the retail price range of S$700 – S$13,000.
Hermes
Hermès is a French fashion brand luxury house renowned for its immense expertise in magnificent leather goods and accessories, high-fashion clothing, perfumes, jewellery and premium wristwatches. Founded in 1837 by Thierry Hermès, the French Maison has been associated with the world of watches since the 1920s. Initially, utilizing its saddle-making expertise, the company launched watchstraps. In 1928, the first Hermès watches were launched.
At present, the company has its own production facilities in Switzerland for making watchcases, straps, movements and dials. Hermes' Arceau and Cape Cod collections offer timepieces for both men and women. Its Slim D'Hermès and Carré H ranges are dedicated to men. The brand's exclusive ladies watch families are Médor, Nantucket, Faubourg, Galop D'Hermès, Kelly, klikti and Heure H.

Hermes' wristwatches and pocket watches are made of 316L stainless steel or precious metals like gold or platinum. Proudly bearing the Swiss Made label, they utilise high-precision self-winding, hand-wound or quartz movements. Most of the Hermes watch models feature shaped cases inspired by the iconic designs and symbols of the French Maison. For example, the Heure H spotlights an H-shaped case evoking the first alphabet of the brand name. The Galop D'Hermès watch takes inspiration from the world of Horse racing and it features a distinct case designed after the metal stirrups of horse riding saddle.
Like these, many other timepieces evoke the company's heritage in the saddle making. Some Hermes watches incorporate the styles inspired by well-loved clothing designs of the House, especially the scarves. The fashion brand additionally offers timepieces with artistic dials featuring miniature paining, motifs, enamelled, porcelain, Millefiori or marquetry. Its product portfolio also includes diamond-set watches and high-complication wristwatches featuring the perpetual calendar or tourbillon.
The approximate retail price range of Hermès watches in Singapore is S$3,500 to S$65,000.
Louis Vuitton
The most valuable luxury fashion house in the world, LV traces its origins back to 1854. It is a principal subsidiary of Parisian business conglomerate LVMH. Louis Vuitton began manufacturing its wristwatches in the 2000s with the launch of Tambour, which is right now the most comprehension timepiece collection in the fashion brand's portfolio. Its other wristwatch collections are Escale and Voyager.
The company has its own watch manufacturing facilities in Switzerland. Bearing the world-renewed Swiss Made label, Louis Vuitton watches unite the prestigious Swiss watchmaking traditions with the fashion brand's heritage and modern technology. They are available in automatic and quartz versions.

Since its establishment, the French Maison has been associated with the world of travelling. Indeed, one of its initial products was a flat-topped trunk made with Trianon canvas, which revolutionised the luggage industry. Louis Vuitton's timepieces take inspiration from such iconic creations and designs. The iconic motifs typically used with the brand's timepieces are LV monogram, Damier and Graphite.
Equipped with state-of-the-art movements, LV watches feature stainless steel, colored steel or gold cases. The fashion brand also offers diamond-set wristwatches. In addition to the basic luxury watch models that indicate time with or without date, Louis Vuitton offers an impressive lineup of premium timepieces with chronographs, dual time zone, flying tourbillon or extraordinary multi-complications.

The approximate retail price range of Louis Vuitton watches in Singapore is S$6,000 – S$400,000.
Read More :