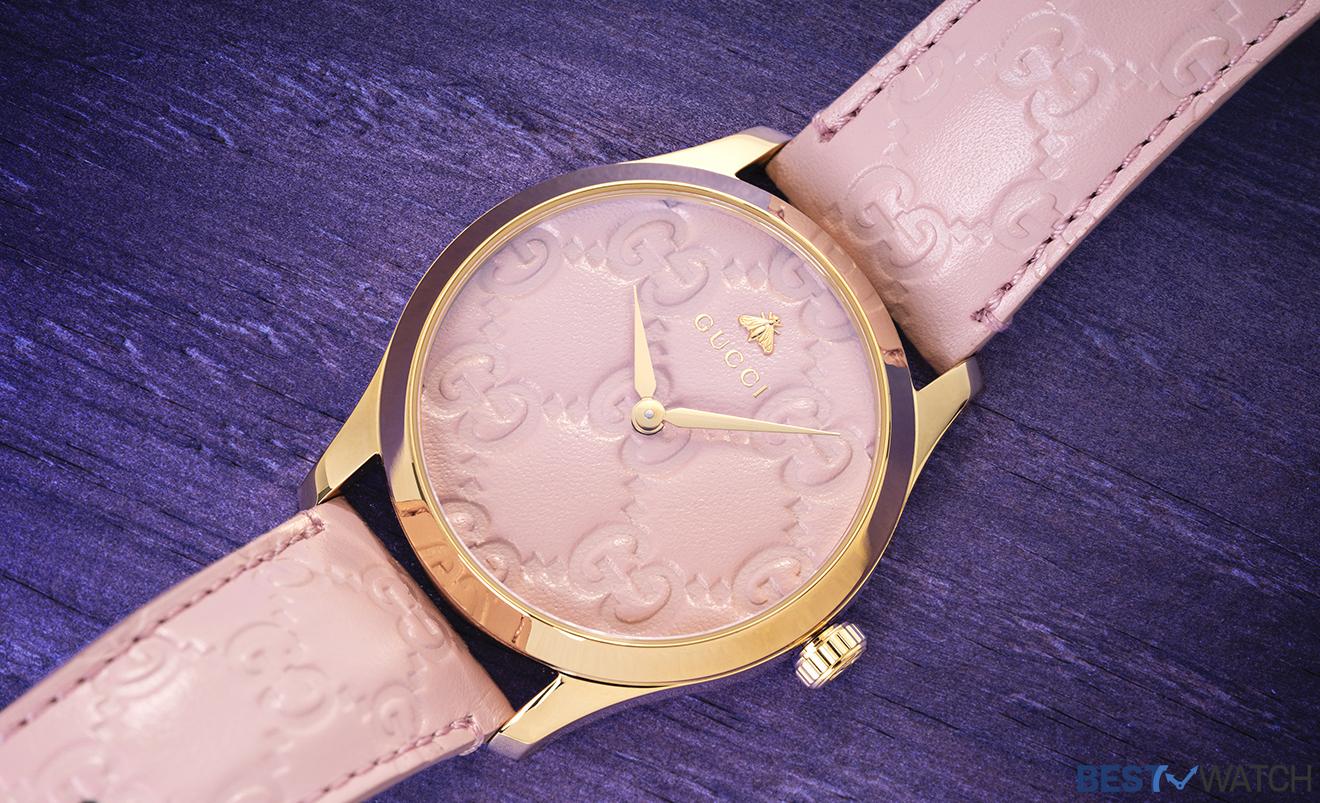 Founded by Guccio Gucci in 1921, the Florence-based luxury-fashion company has been renowned worldwide for its magnificent handbags, clothing lines, lifestyle accessories, watches, jewellery and footwear. Gucci is the first Italian haute couture label to venture into luxury watchmaking. Since the early 1970s, the Florentine house has been designing, developing and manufacturing luxurious wristwatches.
Now a part of Kering group, Gucci has been known for its remarkable ability to blend modernity with tradition, inventiveness with craftsmanship and fashion with sophistication. Gucci watches bear the prestigious Swiss Made label, assuring the most exceptional levels of quality, precision and finishing. They typically feature high-quality materials like 316L stainless steel or 18-carat gold. All the brand's timepieces use sapphire crystal for protecting the dial side. The Gucci watch Singapore price range is S$700 – S$ 5,000.

In this article, we draw your attention to some of the iconic brand's signature watch collections.
(1) Gucci 25H

Designed by Gucci's Creative Director Alessandro Michele, this Gucci watch collection offers timepieces boasting a stream-lined profile as seen in modern architecture. Every model from this outstanding series features a thin, multilayer case with a distinct shape. Presently, the Gucci 25H watch is available in automatic and quartz versions. Made of stainless steel, the automatic version has a 40mm diameter case. This Mens Gucci watch is equipped with Calibre GG727.25.A, the first in-house mechanical movement from the brand.
Gucci 2H Quartz variants feature 34mm or 38mm case. They are available in stainless steel and bi-color (stainless steel and 18k yellow gold plated) case. Made of brass, their dials highlight the interlocking G motif. The 34mm ladies' Gucci watch model is also available with a diamond-set bezel.
The Gucci watches price range of this collection is about S$2,000 – S$13,000.
(2) Gucci Grip

Introduced in 2019, Gucci Grip is a unisex watch collection inspired by the world of skateboarding. This quartz wristwatch features a clean, streamline design that provides a comfortable fitting around the wrists. They feature a rounded-square case in steel or yellow-gold PVD. Instead of a traditional dial with analogue hands, this timepiece incorporates the design of vintage jumping hour watches. This atypical design perfectly goes with the beloved brand's iconic 'Geek Chic' style. The Gucci Grip watch series offers 27mm, 35mm, 38mm and 40mm versions.
The Gucci Grip 27mm watch features two apertures on its enclosed metal face for displaying hour and minute. Both 35mm and 38mm versions incorporate two apertures for an hour and minute and a round window for indicating the date. Made of the same material of the case, the front portion of the watch is available with or without the interlocking G motif.

Water-resistant to 30 meters, the Unisex watches come with interchangeable leather straps or metal bracelets with or without interlocking G motif. This unique series also offers a chronograph model. Spotlighting a 40mm diameter case and equipped with a quartz movement, this timepiece merges the emblematic features of the collection with stopwatch function.
The retail price range of Gucci Grip watch collection is S$1,300 – S$2,200. Diamond-set versions cost above S$5,000.
(3) Gucci Dive

As the name suggests, Gucci Dive is a robust tool watch designed for underwater explorations and water sports activities. This collection offers automatic and quartz versions. Water-resistant to 200 meters, quartz divers are available in 40mm and 45mm variants. They come with steel or yellow gold PVD cases. Equipped with the GP-3300 mechanical movement, this automatic Gucci watch for men measures 45mm in diameter. Available in stainless steel in 18K pink gold editions, the self-winding variant has a water resistance of 300 meters.
Depending upon the model, the dial features dot, rectangular or multi-icon hour-markers. This Gucci watch collection offers diving watches for men and women. These athletic creations fuse the luxury brand's emblematic Italian style with well-established traditions of Swiss fine watchmaking. They are available with metal bracelets, rubber wrist bands or recycled polyester web straps.
The average selling price range of quartz Gucci Dive watch is S$800 – S$2,000.
(4) GUCCI G-Timeless

G-Timeless is the most extensive collection in the present Gucci watches lineup. This graceful line offers both ladies' and gent's wristwatches. Dressed in a round or rectangular case, they use automatic or quartz movements. Available case sizes are 27mm, 29mm, 36mm, 38mm, 40mm and 42mm. They come with steel, bi-color or gold-toned finishing.
This series effectively utilizes Gucci's Iconic design patterns to adorn the timepieces. Typically, G-Timeless wristwatches highlight various motifs of the Italian luxury fashion house on the dial, case-back and strap. These emblematic Gucci watches are available with an extensive choice of dials and straps. A prominent motif used in this collection is the Gucci bee. Several models feature multi-icon indexes in place of standard hour-markers. The other patterns include the Diamante, the Feline, the GG logo, the Snake and the Stripe.

G-Timeless offers excellent choices of straps with or without the decorative motifs. The retail price range of this comprehensive collection is S$800 – S$5,000.
(5) Gucci Diamantissima

Diamantissima is a Gucci watch women collection. These elegantly designed ultra-feminine wristwatches showcase the iconic Diamante pattern of the Italian luxury Maison. Equipped with a quartz movement, this timepiece comes with a polished steel or gold PVD case. The above said motif is applied on the side of the watch case. Available sizes are: 22mm, 27mm and 32mm. The watch features a diamante patterned or mother-of-pearl dial. The price range of these Gucci ladies watches is approximately S$800 – S$1,200.
(6) Gucci G-Frame 

This fabulous collection was designed by Italian fashion designer Frida Giannini, who was the creative director of Gucci from 2006 to 2014. This series is comprised of rectangular and square wristwatches. Elegantly dressed in steel or gold PVD cases, they house quartz movements. Boasting a minimalistic two-hand configuration, these Gucci watch ladies models are available with simple, diamond-set, mother-of-pearl or decorative (miniature painting or decorative motifs) dials. The price range of G-Frame is about S$700 – S$1,500.
(7) Gucci Interlocking

This collection highlights a distinct Watch Design inspired by the interlocking GG symbol, evoking the initials of the brand's visionary founder Guccio Gucci. For men, this impressive collection offers extra-large (42mm) timepieces. The ladies' watch features 29mm or 32mm size. Made of steel or steel with gold PVD, the case adopts the shape of Gucci's iconic interlocking motif.
Depending upon the model, the Gucci Interlocking watch houses quartz or self-winding movement. They display time with two or three hands. Fitted on metal bracelets or leather straps, these watches are available with brushed, lacquered or mother-of-pearl dials. The retail price range of this collection is S$1,000 – S$1,300.
(8) Gucci GG 2570

This notable collection is comprised of quartz timepieces for men and women. Inspired by the designs of the 1970s, the GG 2570 watch features a distinct case profile and a G monogram dial with applied indexes. The series offers 40mm and 42mm versions for gents. For women, 29mm and 37mm case sizes are available. They feature stainless steel or gold-plated steel cases. The selling price range of this Gucci watch collection is S$800 – S$1,600.
(9) Gucci Le Marché Des Merveilles

Gucci's Le Marché Des Merveilles series offers a rich selection of dials. The first option is the colored synthetic stone dial finished in green malachite, blue turquoise or red coral shades. The second option is a nylon embroidery dial featuring motifs like bee, snake or tiger. These time-only quartz wristwatches are usually available in stainless steel or gold PVD cases. They feature leather or matching embroidered nylon straps. The case measures 38mm in diameter. The retail price range of these fashionable Gucci watches is S$750 – S$1,000.
Read More :