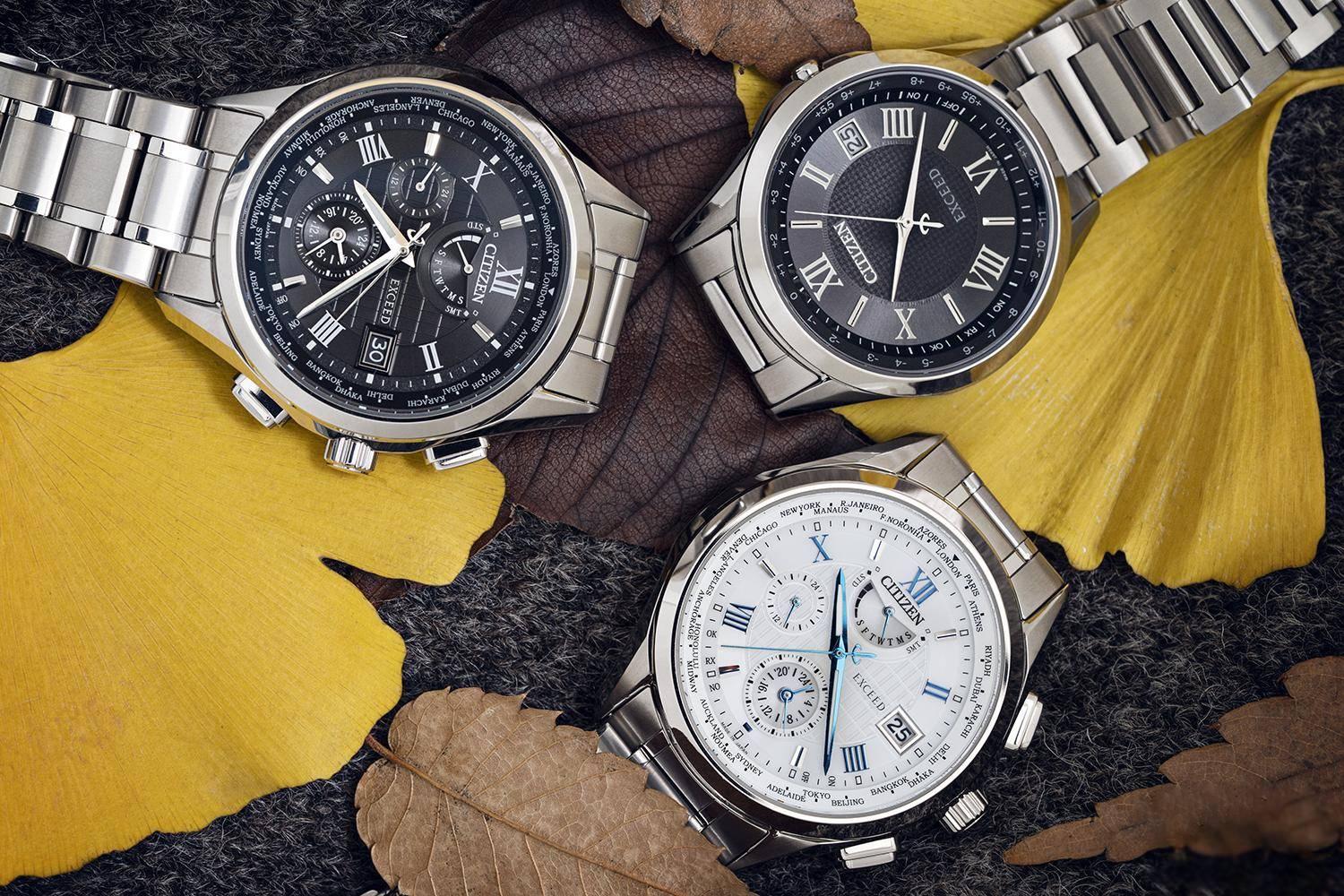 The Japanese watch making behemoth Citizen is a leading innovator in the modern timekeeping arena. One of its most acclaimed innovations is Citizen Eco drive, a proprietary technology that converts any type of light source into electrical energy to power timepieces. The eco drive is a best-selling watch series from the iconic Japanese company.
The brand offers an impressive lineup of Eco drive models, ranging from elegant dress wristwatches to extreme sports timepieces like Promaster. In some of its light-powered watches, Citizen uses advanced precision timekeeping technologies like Radio Controlled and Satellite Wave-GPS.
The Eco drive Citizen singapore product line-up is comprised of time-only, date, day-date, chronograph, triple calendar, GMT and world-time watches. Some of them additionally spotlight a moon-phase or 24-H display. Majority of timepieces feature stainless steel case with silver, black, golden or bi-color surface finishing. A few models are made of Super Titanium, an in-house developed material with superior features.
Regular Quartz Vs Citizen Eco drive

The advent of quartz watches in the 1970s revolutionized the world of watchmaking. Instead of a mechanically driven mechanism, these timepieces employ electronic circuits to indicate the time in analogue or digital methods. The energy source of a traditional mechanical timepiece is a mainspring barrel where as quartz watch is driven by a miniature power cell.
In regular quartz watches, the battery needs replacement whenever it runs out of charge. Solar-powered timepieces typically feature a miniature solar panel (usually beneath the dial), which converts the sunlight into electrical energy. They house rechargeable cells capable of conserving the energy for long durations.
In 1976, Citizen launched the world's first light-powered analogue quartz watch. Named Eco-drive because of its eco-friendly nature, this innovative and award-winning system converts any kind of light (artificial or natural) into electric energy to power the timepiece. Inside each Citizen eco drive watch, a lithium-ion battery accumulates sufficient energy for operating the functions for several months without light exposure. These rechargeable cells eliminate the frequent replacement of batteries. Accordingly, when it comes to longevity, eco-dive calibers outsmart regular quartz watch movements.
A Quick Glance on Various Citizen Eco Drive Collections
Presently, the brand is offering a comprehensive selection of Citizen Eco Drive watches featuring various types of movements, including state-of-the-art Radio-controlled and Satellite Wave-GPS calibers.
(1) Citizen Eco Drive
This segment typically represents the Citizen timepieces with stainless steel cases and standard Eco drive movements. It includes classic, contemporary, sports, dive and military-inspired models. Citizen's stainless steel eco drive watches for men come with blackened, silvered, gold-toned or bi-color finishing. A few sports models have tachymeter or diving bezels.

The best-selling men's Eco Drive watches are Axiom, Stileto, Brycen, Corso, Calendrier, Diver and World time. Mounted with mineral or sapphire crystals, most of these timepieces offer an impressive water resistance rating of 100 or 200 meters. Depending upon the model, these watches come with time-only, chronograph, date, world-time, GMT or perpetual calendar functions. The brand also offers Eco-drive watches inspired by the iconic Citizen chronomaster mechanical watch of the 1960s.
Citizen also offers ladies watches from its Eco-drive collection. Available in time-only configuration or with the date, they incorporate enchanting details and luxurious finishing. Depending upon the model, they feature plain, textured or mother-of-pearl dials. The Citizen L series for women also includes a number of stylish Eco-drive timepieces. The standard water resistance rating of ladies' Eco-drive range is 50 meters.
(2) Citizen Eco Drive Promaster
The Eco-drive segment also includes a number of Promaster watch models in stainless steel.

These timepieces are designed for extreme activities. Three Promaster categories are available: Air, Land and Marine. Among them, a best-selling model is the Citizen promaster diver watch with 200m water resistance. The Promaster Eco-Drive Altichron model comes with an altimeter that can measure up to 10,000 meters altitude.
(3) Citizen Eco Drive Super Titanium
The brand also delivers various Eco Drive wristwatches made of Super Titanium, a proprietary material which is five times harder than stainless steel. Citizen offers various types of classic, modern and sporty iterations made of this extremely durable yet light-weight material. These Citizen eco drive titanium watches are expensive than their counterparts in stainless steel.

Among them, the PROMASTER Eco-Drive Professional Diver 1000m in Super Titanium is the world's first light powered diving watch with a 1,000m water resistance rating. The brand has also offers a PROMASTER Eco-Drive Diver 200m Super Titanium version, inspired by the iconic Professional Diver 1,300m model released in the 1980s.
(4) Citizen Eco Drive One
The Citizen Eco Drive One is the world's thinnest light-powered wristwatch. It is available in Super Titanium and Stainless steel versions as well as in a limited edition featuring Cermet case and Altic bezel.
(5) Citizen Eco Drive Radio Controlled
Citizen's Eco Drive Radio Controlled timepieces combine ultimate precision of atomic timekeeping with the long-life and excellent durability of eco-drive technology. They are capable of capturing time signals transmitted by terrestrial radio stations that take reference time from an atomic clock accurate to 1 second every 100,000 years. Presently, this service is limited to selected regions only.

The best-selling Eco Drive Radio Controlled watch models from the present line-up are World Chronograph A-T, Promaster Skyhawk A-T, Promaster Land and PCAT. These stainless steel wristwatches are available with silvered, gold-toned, bi-color or blackened cases. These sports watches are synchronized to an atomic time clock for superior accuracy.
The World Chronograph A-T watch incorporates the H804 Eco-Drive movement in a 43mm case. It offers 1/20 second chronograph, Date, Perpetual Calendar, 12/24 hour, power reserve and World Time (26 time zones) functions. Featuring a 45mm case, Citizen's Promaster Land Eco drive watch features perpetual calendar, 12/24 hour time, alarm, power reserve indicator, date and world time (24 time zones).
The Eco-drive PCAT Radio Controlled watch comes with a stainless steel case and offers alarm, chronograph, date, perpetual calendar and world time functions. PCAT models also spotlight external or internal tachymeter bezels. The Promaster Skyhawk A-T watch features world time (43 cities), 1/100 second chronograph measures up to 24 hours, perpetual calendar, dual-time, alarms, countdown timer, digital backlight, UTC display, power reserve indication and pilot's rotating slide rule bezel. This model is also available in "Blue Angels" editions as a tribute to the US Navy's elite flight demonstration squadron.
The collection also includes a men's Super Titanium™ Atomic Timekeeping watch with perpetual calendar, date and world time. Equipped with sapphire crystal glass, Citizen's Eco Drive Radio Controlled timepieces come with water resistances of 100m or 200m.
(6) Citizen Eco Drive Satellite Wave-GPS
Citizen's Satellite Wave-GPS is an extremely advanced precision timekeeping technology utilizing position data and a time signal from GPS satellites. It features the world's fastest timekeeping signal reception speed from GPS navigation, and offers accurate and correct time for your precise location, wherever you are. The Citizen Satellite Wave GPS timepieces maintain an outstanding level of accuracy of ±5 seconds per month.

Combined with the Eco Drive technology, the Satellite Wave-GPS watches can offer extremely precise timekeeping with remarkable endurance and excellent stability. The popular watch models from this segment are Satellite Wave GPS, Satellite Wave GPS Freedom, Satellite Wave GPS Diver 200M and Satellite Wave GPS F950.
These sophisticated timepieces usually come with a multitude of functions like world time, chronograph, dual time-zones, universal coordinated time display, perpetual calendar, alarm, count-down timer and indicators for daylight savings time, power reserve and light level. Depending upon the model, the case is made of stainless steel or super titanium. Subject to the version, the water resistance can be 100m or 200m. They feature sapphire or mineral crystal.
Price details
The Citizen eco drive singapore price range starts at S$200. The standard Eco Drive watches in stainless steel with time-only or date functions are usually available within the S$200-500 segment. The Eco-Drive Super Titanium Gent's models with time-only display sell in the S$400-500 range. The Citizen promaster eco-drive diver 200m gent's watch in Super Titanium costs in the region of S$650-750.
The estimated Citizen singapore selling prices of Promaster Eco Drive watches (including Radio-Controlled and Satellite Wave-GPS) vary from S$450 to S$4,000. The Citizen L (ladies) Eco drive models are offered in the 350-1,000 Singapore dollars range.
The retail price of the Eco Drive One stainless steel watch is approximately S$4900. The Super Titanium variant has a suggested selling price of over S$ 6,000. The limited edition Eco-Drive One model in Cermet with Altic bezel costs above S$8,000.