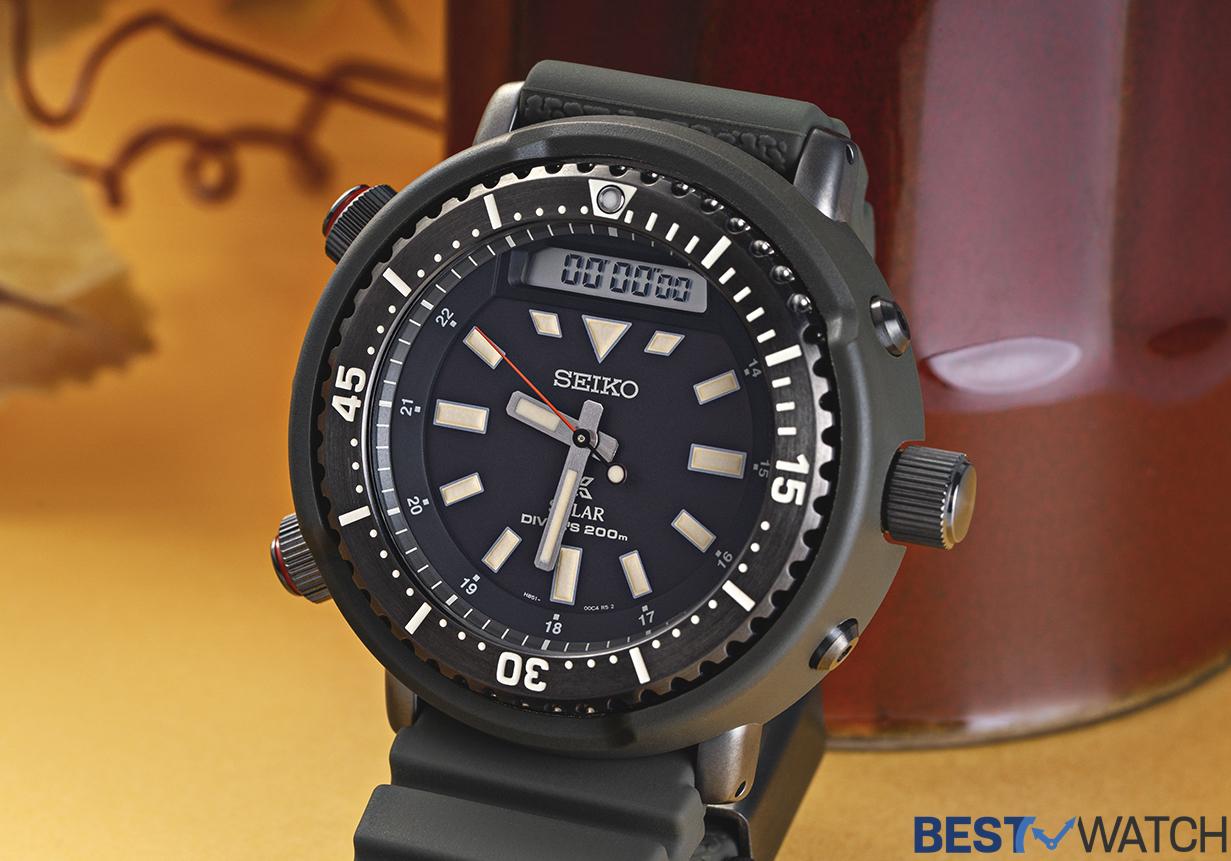 Introduction
One of the largest watch manufactures in the world, Seiko is extremely popular with Singapore's wristwatch enthusiasts. Singapore is a global financial hub favored by the watch companies in all the price categories, from affordable to hyper-luxury. Being a watchmaking conglomerate with global ambitions, Seiko has a well-established retail and manufacturing network in the country.
Seiko was founded by Kintarō Hattori, who established a clock and jewelry shop in Tokyo in 1881. This visionary entrepreneur began manufacturing mechanical wall clocks in 1892 under the brand name Seikosha. In 1895, the company introduced their first pocket watch and in 1913, their first wristwatch. In 1924, Seikosha changed its trademark to Seiko.

Seiko was the first company to manufacture self-winding wristwatches and pocket watch chronographs in Japan. In the 1950s and 60s, the brand also innovated mechanical timekeeping by introducing high-precision wristwatches like Marvel, Cronos, King Seiko and Grand Seiko.
In 1969, Seiko launched the world's first quartz wristwatch. With this revolutionary technology, the brand has created timepieces such as LCD watch, Multifunction analogue and digital watches, Alarm clock, TV watch, Wrist computers and more. In 1988, the brand introduced the Kinetic watches. In 1999, the company launched the first series of wristwatches powered by the state-of-the-art Spring Drive system.
Singapore was the first place chosen by the Japanese watchmaking giant to kick start their global manufacturing activities. In 1973, Seiko established its first overseas subsidiary. This Seiko watch Singapore unit along with its subsidiaries in Malaysia, manufactures watch components and wristwatches. The country is also home to some renowned Seiko retailers operating by means of brick and mortar stores and e-commerce platforms.

Buying guide for Seiko Singapore
Master of various time-keeping technologies like Mechanical, Quartz, GPS, Kinetic, Solar, Radio-controlled and Spring drive, Seiko offers an extensive selection of wristwatches, starting from the affordable segment to the luxury. 
If you are a beginner and keenly interested to buy a new Seiko watch, you should be aware of its recently updated product line-ups and repositioning of the brands and its extensive collections. This will assist you in choosing a perfect watch suitable for your requirement, style and budget.
In recent years, the Japanese watchmaking giant has undertaken several significant steps to reorganize its manufacturing and commercial activities. Firstly, they have strategically positioned Grand Seiko as an independent brand. Moreover, Seiko's global product folio has been regrouped. The five flagship watch families are Astron, Prospex, Presage, Premier and Seiko 5 sports. All these watches are usually available in Singapore.

The other watch collections offered in the Seiko Singapore portfolio are: Brightz, Conceptuals, Coutura, Criteria, Dolce & Exceline, Lord, Lukia, Selection, Solar, Spirit, Sportura and Velatura. These watches are now positioned under a core group. It has been dubbed 'Discover More' in some countries. It is comprised of Automatic, Kinetic, Quartz and Solar wristwatches for both men and women.
Depending upon the collection, the Seiko watches Singapore price range typically starts from S$ 100 to S$ 5,000. In comparison, Grand Seiko mechanical and spring drive watches cost above S$ 5,000 (S$ 2,700 in case of quartz models).
1. Seiko quartz watches
If you are planning to buy a Seiko timepiece under S$ 300, the brand offers regular quartz watches with or without calendar functions. In the Quartz category, chronographs and multifunction watches typically sell in the range of S$ 300 – S$ 600.
If you want to pick up a high-performance quartz watch, there are many options to select from Solar, Radio Sync, Kinetic and Astron GPS collections. Their costs are higher than regular quartz models. 

(a) Seiko solar watches

Seiko Solar is an advanced quartz caliber equipped with a rechargeable battery that keeps on charging from sunlight or artificial light. The solar-powered batteries typically have a longer lifespan than the non-rechargeable cells used with regular quartz movements. The brand offers solar-powered quartz watches from Criteria, Coutura, Dolce & Exceline, Lukia, Macchina Sportiva, Premier and Prospex collections. These wristwatches retail in the S$ 450 – S$ 650 price segment. Among these, Lukia timepieces are available for women only.
(b) Seiko Radio Sync watches

Seiko also offers radio-controlled timepieces, which make use of the signals from terrestrial transmitters to synchronize the time and date. These high-precision quartz watches feature a receiver to obtain the radio-sync signals. These watches automatically correct the precise time whenever they receive the radio sync signals. Seiko Brightz is a impressive collection of radio sync solar watches. This collection has a retail price range of S$ 700 – S$ 2,000. The brand's Coutura, Dolce & Exceline and Lukia lines also offer timepieces equipped with this technology. 
(c) Seiko Kinetic watches

You might have heard of Seiko's proprietary Kinetic drive technology, which was introduced in the late 1980s. This innovative machine can be discovered in several watch models from the brand's Arctura, Premier and Sportura collections. The entry-level Seiko Kinetic watch with a date display is typically available under S$ 200. The price of Perpetual, Chronograph and Direct-Drive models is obviously higher. For example, the Premier Kinetic Perpetual watch has a price range of S$ 800 to S$ 1,400.
(d) Seiko Astron GPS watches

In the topmost level of the quartz segment, you will find the Seiko Astron GPS that makes use of the most advanced technology in precision timekeeping. These extremely accurate timekeepers are equipped with solar-powered quartz movements that are capable of receiving signals from the satellites used in the Global Positioning System. They amply provide the most accurate time as it has been synchronized with atomic clocks. This reliable service can be accessed from anywhere in the world. These wristwatches offer a great number of functions useful for various facets of our life. In Singapore, the retail price of the Astron GPS watch collection is S$ 1,600 – S$ 4,000.
2. Seiko Mechanical Watches
(a) Seiko 5 Sports automatic watches

If you are a devotee of mechanical timepieces but worried about the budget, Seiko 5 is an ideal choice. This product range was originally introduced in 1963.
In 2019, the brand rejuvenated the historic series by introducing the new Seiko 5 sports, a comprehensive collection of muscular automatic timepieces. This renewed series embodies the emblematic features of the 1960s Seiko 5 watches, like automatic movement, day-date display and the recessed crown at 4 o'clock. Water-resistant to 100 meters, the new generation Seiko 5 sports wristwatches feature a unidirectional rotating bezel. From this affordable mechanical watch family, the brand also offers a number of automatic field models without an external bezel. The Seiko 5 Singapore price range for the new generation series is S$ 300 to S$ 500.
(b) Seiko automatic dress watches

In the mechanical category, the next option is the classic Presage series. Revived in 2016, this flagship range is comprised of elegant automatic watches. The collection has two categories based on the Seiko Presage Singapore price. The first one is the Basic series with timepieces costing from S$ 500 to S$ 1,000. The second one is the Prestige series, which has a price range of S$ 1,000 to S$ 5,000. Depending upon the model, they house 4R, 6R or 8R automatic movements. This is the best collection to explore various artistic dials, ranging from contemporary cocktail style to hand-crafted enamel or porcelain.
The other Seiko collections like Premier and Lukia also offer mechanical wristwatches, and their retail prices vary depending upon the factors such as the type of movements, the materials and gem-setting. For instance, a regular Lukia automatic watch (only available for women) is available under S$ 1,000 whereas a gem-set variant costs above S$ 2,500. The Premier automatic model with 4R movement's retail value is around S$ 800.
(c) Seiko Prospex automatic 'Land' watches
Because of their robustness, reliability and excellent dial legibility, these watches are usually preferred by explorers and outdoor sports enthusiasts. To include such timepieces, Seiko has introduced a range designated 'LAND' under the Prospex family. Presently, this series is comprised of Alpinist, Land Master, Field Master and several other models. All these watches are water-resistant to 200 meters. Some of them are equipped with rotating inner or outer compass bezel, which is useful for outdoor adventurous activities trekking, mountaineering and etc.
Alpinist is a modern interpretation of an iconic Seiko watch with the same name. It is equipped with an automatic movement from the 6R series. The Field Master automatic watches are equipped with 4R series movements. Typically featuring an outer rotating compass bezel, they take inspiration from the designs of Seiko scuba divers. These Seiko watches are available in the price range of S$350 – S$ 1,000.
3. Seiko Prospex Diving Watches

The Seiko Prospex line offers diving watches in automatic, kinetic, quartz and solar versions. They are extremely popular in the global market.
If you are a diving or snorkeling enthusiast, Seiko diver 200m is an ideal companion. Traditionally, Seiko diving watches with 200 meters water resistance come under scuba diver category. Now positioned in the Prospex range, these robust and reliable watches are suitable for scuba-diving, snorkeling and other recreational water sports activities.
The price of Seiko scuba diving collection starts around S$ 400. Equipped with 4R series movements, the entry level automatic versions are usually available under S$ 1,000. Among them, SKX007 is one of the most-loved affordable diving watches in the modern world. This model was introduced in 1996, and it still has a great followership. The Seiko skx007 Singapore price range fluctuates between S$ 400 and S$ 500. The Seiko diver 200m watches with new generation 6R self-winding movements usually cost above S$ 1,000.
Within the Prospex family, Seiko also offers professional-grade diving watches with water resistances ranging up to 1,000 meters. These extremely robust and reliable timepieces come under the Marinemaster Professional range. The Marine Master Professional watches are available in 300m, 600m and 1000m categories. These timepieces are suitable for saturation diving, usually conducted by professional divers for industrial or scientific purposes. The retail price range is S$ 1,000 to S$ 4,000, depending upon the type of movement and depth rating.
Seiko's Kinetic, Quartz and Solar dive watches are less expensive than the automatic divers. However, the Spring-Drive models are costlier.
4. Seiko Spring Drive Watches

Developed by Seiko, Spring Drive is a phenomenal movement capable for providing tremendous accuracy to a mechanical wristwatch. Combining the bests of traditional horological craft and electronic technology, these movements have been reserved for some of the finest wristwatches from Seiko, Grand Seiko and Credor brands. These horological masterpieces are ideal for passionate lovers of various types of mechanisms employed in luxury mechanical watches. Presently, the Prospex LX range offers some spring drive watches, with retail prices above S$ 3,000. In the Presage series, Seiko has recently introduced a spring drive timepiece in collaboration with Riki Watanabe, the eminent Japanese industrial designer.
Read More :