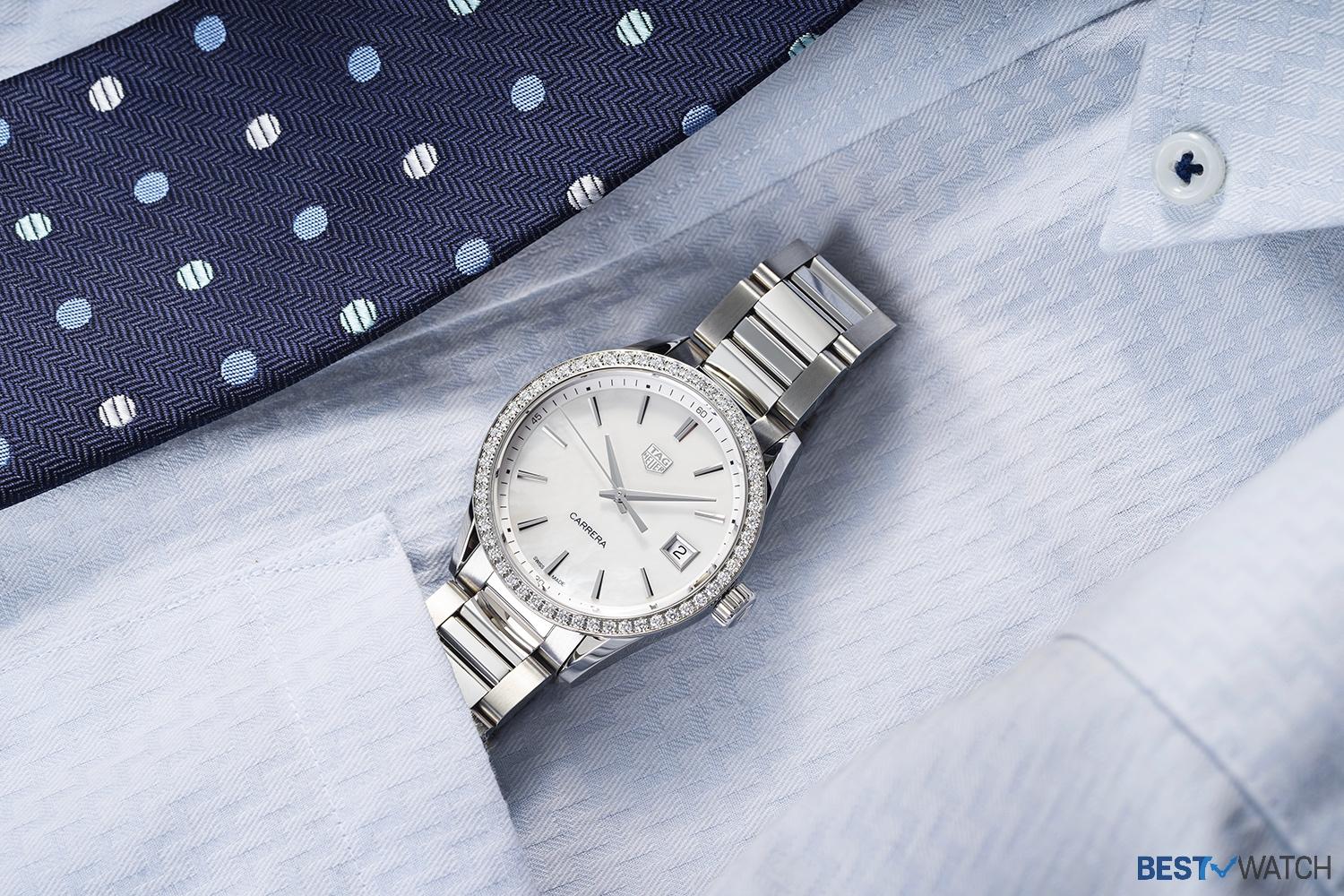 Introduction
Tag Heuer Carrera is one of the flagship collections from Tag Heuer, the iconic Swiss luxury watch brand with a comprehensive history of more than 160 years. Introduced in 1963, this successful series takes its name from the legendary Carrera Panamericana Mexico Road Race. Originally created as a chronograph for professional racing divers, it has evolved into one of the most successful collections from the renowned Swiss manufacture.
Known for its incredible selection of extremely durable and high-performance sports timekeepers, this iconic Tag Heuer watch family typically offers chronographs and three-hand watches with additional functions like date, day-date or second time-zone. Seamlessly blending the motorsports heritage with innovative design, all these watches are equipped with automatic or quartz movements. Carrera chronographs are available with or without an outer tachymeter bezel. In addition to the standard stainless steel models, the collection also offers exclusive versions featuring 18-carat gold, ceramic or innovative carbon composite material.

In this article, we are highlighting the history of the Carrera collection, its popular models, the collector's value of the series and the Tag Heuer Singapore price details.
History
Founded in 1860, Heuer (known as Tag Heuer since 1985) has been renowned worldwide for its extensive expertise in the manufacturing of chronographs endowed with ultimate precision. In 1882, Heuer became one of the first watchmakers to mass-produce pocket chronographs. Soon, the Swiss watchmaking house became a leading manufacturer of aviation and automobile dashboard chronographs, sports stopwatches and pulsometers. In 1914, the company introduced its first wrist chronograph.
In 1963, Heuer launched Carrera chronograph. It was thoughtfully designed by Jack Heuer, the great-grandson of the brand's founder Edouard Heuer.
In Spanish language, Carrera means race. The Carrera Panamericana was a legendry sports car racing event held in Mexico in the 1950s. It was one of the most challenging and deadly motorsports events. In 1954, the organizers discontinued this annual championship due to higher costs and safety concerns. In 1988, La Carrera Panamericana was revived along some of the original course as a classic speed rally. This legendary event was the inspiration for Jack Heuer when he designed Carrera.
In 1996, Tag Heuer re-introduced the legendary Carrera collection. Launched in 2006, the Carrera Calibre 360 rose gold watch won the Grand Prix d'Horlogerie de Genève award in the Sports Watches category.

In 2010, Tag Heuer launched Calibre 1887, the brand's in-house chronograph movement made after acquiring intellectual property elements from Seiko Instruments Inc (SII). The new re-engineered and customized calibre has been manufactured in the production facilities in Switzerland. The Tag Heuer Carrera calibre 1887 chronograph model is equipped with this new generation self-winding movement. In 2011, the Carrera heritage collection was introduced.
In 2013, the Swiss brand celebrated the 50th anniversary of this iconic sports chronograph collection. In 2019, upgraded and redesigned Carrera Calibre 16 timepieces were launched.

Popular models
Carrera is an extensive collection comprised of chronographs, watches with day, day-date or dual-time functions and multi-complication wristwatches that incorporate chronograph and tourbillon. In the chronograph segment, Tag Heuer Carrera calibre 16 models are the most popular. The other best-selling series from the Carrera family is the Tag Heuer Carrera calibre 5 automatic watch. The chronograph watches with in-house movements like 1887 and Heuer 2 are also popular. 

In addition to the regular collection, the brand also offers commemorative and collaborative editions from this iconic wristwatch family. A noteworthy evolution of the Carrera watch is the Tag Heuer Grand Carrera RS, which features an innovative rotating system visible through the dial side.
Collecting Carrera watches
Carrera watches are highly coveted by connoisseurs and enthusiastic collectors from all over the world. Below, you can find five reasons why you should buy a Tag Heuer Carrera.
(1) Motor Sports DNA
Like the iconic Tag Heuer Monaco timepiece, Carrera also carries an impressive motorsports legacy. The attachment between automobile racing and watchmaking is strong as a mountain. Many iconic and highly sought-after wristwatches of today were indeed developed for racing divers. This enduring legacy ensures greater value for each Carrera watch.
(2) Brand Heritage

In addition to its motor-racing spirit, Carrera has been proudly perpetuating in the prominent brand's enduring watchmaking legacy. It perfectly reflects the company's several extraordinary achievements in the field of chronograph watches. Tag Heuer boasts a rich history of more than 160 years, and this remarkable heritage naturally adds the investment value of the brand's timepieces, including the Carrera.
(3) Celebrity Connection
Tag Heuer Carrera enjoys cult status due to its association with celebrities. Many famous personalities, sports champions and superstars proudly wear these iconic watches. The extensive list of influential patrons and prominent owners always also ensures a great investment value for a Carrera watch.
(4) Superb Engines

The Swiss Maison has an impressive fleet of mechanical self-winding chronograph movements like Calibre 11, 12, 16, 17, 1887, 36 and Heuer 02. Among them, Calibres 1887 and Heuer 02 are in-house calibres. The non-chronograph Carrera models are typically equipped with calibres 5, 6, 7, 8 or 9.
The brand's in-house movements are considered as the most outstanding examples of the acclaimed Swiss watchmaking values. The other calibres used with Carrera watches were developed in collaboration with renowned Swiss manufactures like ETA, Dubois Depraz, Sellita and Zenith. 
All of these horological engines boast outstanding technical features usually required for a motorsports watch. These robust and extremely reliable horological engines ensure ultimate performance and endurance.
(5) Excellent built quality
Equipped with powerful and precise mechanisms, Tag Heuer Carrera watches are equally known for their outstanding built features. The brand employs excellent components and parts for its every timepiece for ensuring extreme robustness and superb aesthetics. These distinctive features ensure prolonged life without losing the irresistible allure, therefore maintaining the collecting value of each Carrera watch.
Pricing
The Tag Heuer Carrera collection offers luxurious yet smartly prices sports watches. The Tag Heuer Carrera price range for regular collection in Singapore is approximately S$ 2,000 to S$ 10,000. The cost of exclusive creations like the Calibre Heuer 02 Tourbillon is higher than S$ 15,000.

The Tag Heuer Carrera calibre 5 series offers entry-level automatic watches from the family. These non-chronograph watches feature a three-hand layout with day or day-date functions. They are usually available in the price range starting from S$ 2,000 to S$ 5,000. In the automatic chronograph segment, the variants fitted with the in-house calibres are more expensive than the versions featuring Calibre 16.
Read More :