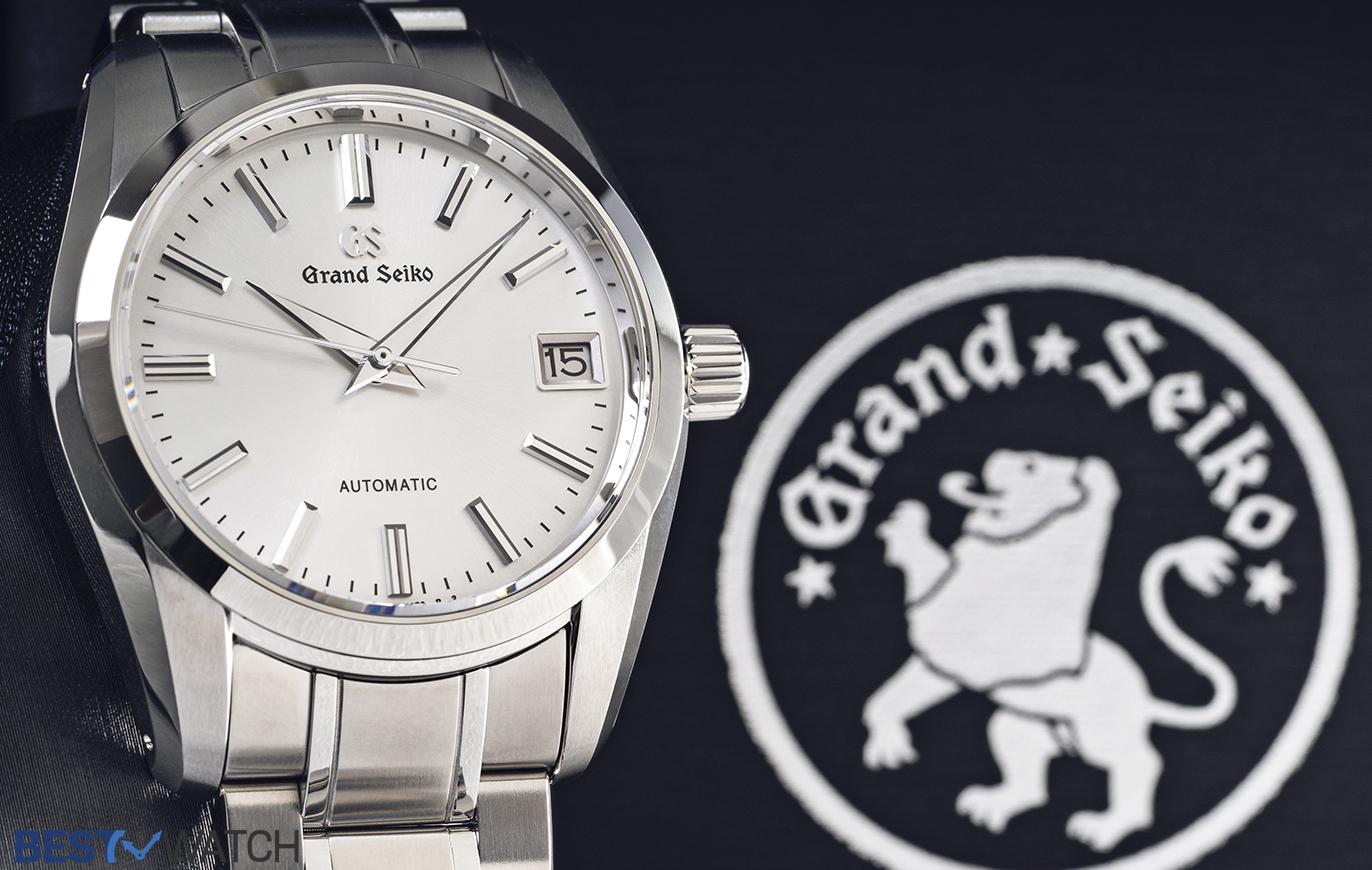 Introduction
The first Grand Seiko watch was launched in 1960. The principal aim was to produce a wristwatch with superior chronometric standards and luxurious details. Initially, this acclaimed series was available only in the Japanese domestic market. In 2010, Seiko Watch Corporation introduced Grand Seiko into the international market. Now, after more than six decades of its successful introduction, this prestigious collection has been evolved into an independent premium brand.

During its evolution, Grand Seiko has effectively utilized various watchmaking inventions by the Japanese watch company. Presently offering Mechanical, Quartz and Spring Drive watches, this premium brand faithfully represents the highest standards of Haute-Horlogerie manufacturing. Popularly known for its idealist attitude, Grand Seiko manufactures its timekeepers by combining the aesthetic vision inspired by Japan's scenic beauty and the most exceptional watchmaking standards. These magnificent creations typically incorporate superior materials and in-house finishing techniques.
Ten Popular Grand Seiko Watches in Singapore
1. Grand Seiko Spring Drive SBGA 211 aka 'Snowflake'

The word 'snowflake' has been used for decades to represent a particular style of watch hands. However, in the enticing world of Grand Seiko, it symbolizes a specific and highly sought-after dial pattern. The Grand Seiko Spring Drive SBGA 211 is a member of the splendid Heritage collection. This model is popularly known as Grand Seiko snowflake due to its pure white-colored dial highlighting an attractive texture inspired by the icy crystals typically found in the winter mornings. The dual-curved sapphire crystal amply provides an unobstructed view of the immaculate dial.
This extremely popular wristwatch from the Japanese premium brand features a high-intensity titanium case and bracelet. Equipped with the 9R65 spring drive automatic caliber, the classic 41mm watch displays hour, minute, seconds, power reserve and date. Its power reserve is approximately 3 days. As on date, the Grand Seiko snowflake Singapore price is roughly S$ 8,000.
2. Grand Seiko Heritage Hi-Beat "White Birch" SLGH005

Introduced in 2021, this timepiece is one of the most talked-about creations from Grand Seiko. It belongs to the Heritage collection and houses the 9SA5 high-beat (36,000 vibrations per hour) self-winding movement. Its in-house developed Dual Impulse Escapement ensures superior chronometric performance. Made by the Grand Seiko studio in Shizukuishi, this classic wristwatch derives its aesthetic inspiration from the natural magnificence associated with the Iwate region of Japan. Its mystifying dial texture is inspired by the trunks of white birch trees around the iconic workshop.
This 40mm watch with stainless steel case and bracelet highlights the esteemed Zaratsu polishing. Its immaculately finished dial incorporates fluted hour-markers, white hour and minute hands, blue central seconds hand and the window at 3 o'clock. Efficiently delivering an outstanding autonomy of 80 hours, the new generation 9S high-beat movement with the open-worked rotor is visible through the sapphire crystal case-back. The "White Birch" Grand Seiko Singapore retail price is approximately S$ 11,460 including taxes.
3. Grand Seiko Elegance Automatic GMT

It is an elegant Grand Seiko watch with a modern touch. Driven by the new-generation 9S66 automatic mechanical movement, it boasts two convenient functions: the date and GMT. A trustworthy luxury accessory for globetrotters, the Grand Seiko Elegance Automatic GMT watch displays its classic elegance nature with its 39.5mm diameter stainless steel case with Zaratsu polished lugs.
Rated for an impressive power reserve of 3 days, the modern self-winding mechanical movement can be admired through the sapphire crystal case back. Presently, this timepiece is available with an ivory-color dial and a blue GMT hand. In Singapore, its price is more or less S$ 6,000.
4. Grand Seiko Spring drive GMT with External Bezel

Grand Seiko has been renowned for its elegant GMT watches that feature an extra centre hand to track a secondary time zone. Among various types of dual time-zone wristwatches, models with external bezels are immensely popular. Grand Seiko offers a number of GMT watches featuring a graduated 24-hour outer bezel. In the Spring-drive segment, references like SBGE 253, 255 and 257 are excellent examples for this style. With the help of the independently adjustable GMT hand, the rotatable outer-bezel and the flange marked with a 24-hour scale, the user can accurately track three time zones at a time.
Dressed in a 40.5mm diameter stainless steel case, these Grand Seiko GMT watches from the premium Japanese brand's Sports collection feature outer bezels in ceramic with the corresponding color of the dials. Certifying the athletic nature of this series, they steadfastly maintain a remarkable water-resistance of 200m. Dedicated to cosmopolitans, each of these timepieces is powered by the 9R66 automatic Spring-drive caliber with a power reserve of 72 hours. The Singapore retail price of this Grand Seiko GMT sports watch is approximately S$ 7,000.
5. Grand Seiko Sports Automatic Hi-beat 36000 GMT

As the name suggests, this self-winding wristwatch is equipped with a high-beat mechanical calibre with a beating rate of 36,000 vibrations per hour (5Hz). It is presently available in two references: SBGJ 237 and 239. An excellent companion for international travelers, this sporty variant has a massive 44.2mm diameter stainless steel case. It houses the 9S86 movement with a power reserve of 55 hours.
Made of sapphire crystal, the eye-catching bi-color bezel ring efficiently utilizes the Lumbrite luminescent technology. The watch also has a fixed flange with 24-h scale and an additional centre hand for displaying a secondary time zone. The rotating two-tone bezel allows the user to differentiate between the day and the night hours. The watch can track three time zones instantly. It is equally capable to withstand water pressures up to 200 meters depth. Presently available in green and blue dial versions, it also displays the date at 4 o'clock. The selling price of this model is around S$ 8,000.
6. Grand Seiko 9F Heritage Quartz SBGP013

The Quartz series represents the most fundamental form of the Grand Seiko legacy. Equipped with the state-of-the-art quartz movements, these timepieces are available in time only, date, day-date and GMT versions. Among them SBGP013 is a popular model. It belongs to the Heritage collection. Grand Seiko quartz timepieces usually feature slender proportions making them perfectly suitable as a classic dress watch. This particular reference in stainless steel has a trendy blue-color dial.
It offers an absolutely legible display of time with the lancet-shaped hour and minute hands, central seconds hand and the date via a window positioned at 3 o'clock. A silver dial version is also available in this Heritage quartz series: Reference SBGP009. Paired with a stainless steel bracelet, both these models feature 40mm diameter and 10.6mm thick case. Its refined proportions ensure a comfortable fitting. Just like all Grand Seiko watches, this reference utilizes exclusive Zaratsu polishing. Featuring enhanced precision and excellent durability, the 9F85 calibre amply provides an outstanding accuracy of ±10 seconds per year. Its retail price is approximately S$ 3,400.
7. Grand Seiko 9F Heritage Quartz SBGT238

A distinct member from the impressive Grand Seiko Heritage collection, this elegant yet robust quartz watch comes with a number of impressive features in its refined 37mm diameter case. Firstly, the dual-tone theme adds more classiness to the sports-chic wristwatch. The case, bracelet and crown are made of stainless steel. Its bezel, hands, indexes, the iconic GS logo and the day-date window border are brilliantly finished with 18K yellow gold. The delicate texture of its dial is simply mesmerizing. Driven by the 9F83 quartz caliber, the watch offers an impressive accuracy of +/-10 seconds a year. Its Singapore selling price is roughly S$ 4,350.
8. Grand Seiko Heritage Automatic SBGR299

This reference is an ideal option for Grand Seiko enthusiasts who love to wear slightly large-sized wristwatches. Driven by the 9S61 automatic movement, this 'time only' model comes with a 42mm diameter stainless steel case for ensuring a great wrist presence. Beneath the sapphire crystal glass, it boasts a flawless silver-colored dial with rectangular indices, blue centre seconds hand, and grey hour and minute hands.
Water-proof up to 100 meters and fitted seamlessly with a stainless bracelet, it is one of the boldest watches in the Grand Seiko Heritage collection. Its fluted stainless steel case-back with the transparent sapphire crystal window affords the view of the mechanical self-winding movement. It typically has a power reserve of 72 hours. The Automatic SBGR299 watch retails around S$ 5,700 in Singapore.
9. Grand Seiko Sports Hi-Beat Automatic Professional Diver SBGH255 

Introduced in 2017, SBGH255 is the first professional diving timepiece from Grand Seiko. Water-resistant to 600 meters, this massive wristwatch comes with a 46.9mm diameter case with the Caliber 9S85 high-beat automatic movement beating inside. Its case and bracelet are made of high-intensity titanium, ensuring lightness around the wrists, despite its oversize dimensions. It has a power reserve of 55 hours.
Suitable for saturation diving activities, it also has a magnetic resistance rating of 16,000 A/m. This robust wristwatch merges the characteristic Grand Seiko details with the rigorous specifications usually required for a professional-grade diving instrument. Its case employs finishing techniques like distortion-free Zaratsu polishing while its innovative construction ensures optimum waterproofness without using a helium release valve. Its four-part unidirectional bezel ensures easy servicing of the watch exteriors post-diving activities. The generous use of luminous material on the hands, hour-markers and bezel-markings provide excellent readability underwater.
In Singapore the retail price of SBGH255 is about S$ 14,000. The brand is additionally offering a limited edition Hi-Beat Automatic Professional Diver watch with reference number SBGH257, with production restricted to 500 pieces.
10. Grand Seiko Spring Drive 8 Day Power Reserve

Introduced in 2016, Spring Drive 8 Day Power Reserve SBGD001 is the first Grand Seiko watch created by the Shiojiri Micro Artist Studio. This exclusive facility has been known for its extensive expertise in the development and manufacturing of Credor watches, like Spring Drive Minute Repeater, Sonnerie and Eichi.
The horological engine driving this exceptional wristwatch is the manual-winding 9R01 Spring Drive caliber capable of delivering a staggering 192 hours (8 days) power reserve. Belonging to the brand's Masterpiece series, the Spring Drive 8 Day Power Reserve watch comes with a platinum 950 or 18K rose gold case. 
Measuring 43mm diameter, its precious metal case is immaculately finished with the specially developed Zaratsu polishing technique that typically provides a mirror-like appearance. Highly sought-after by seasoned collectors, this timepiece naturally derives aesthetic inspiration from the Suwa region's beautiful landscape. In Singapore, the retail price range of this series is approximately S$ 50,000 to S$ 71,000.
Read More :