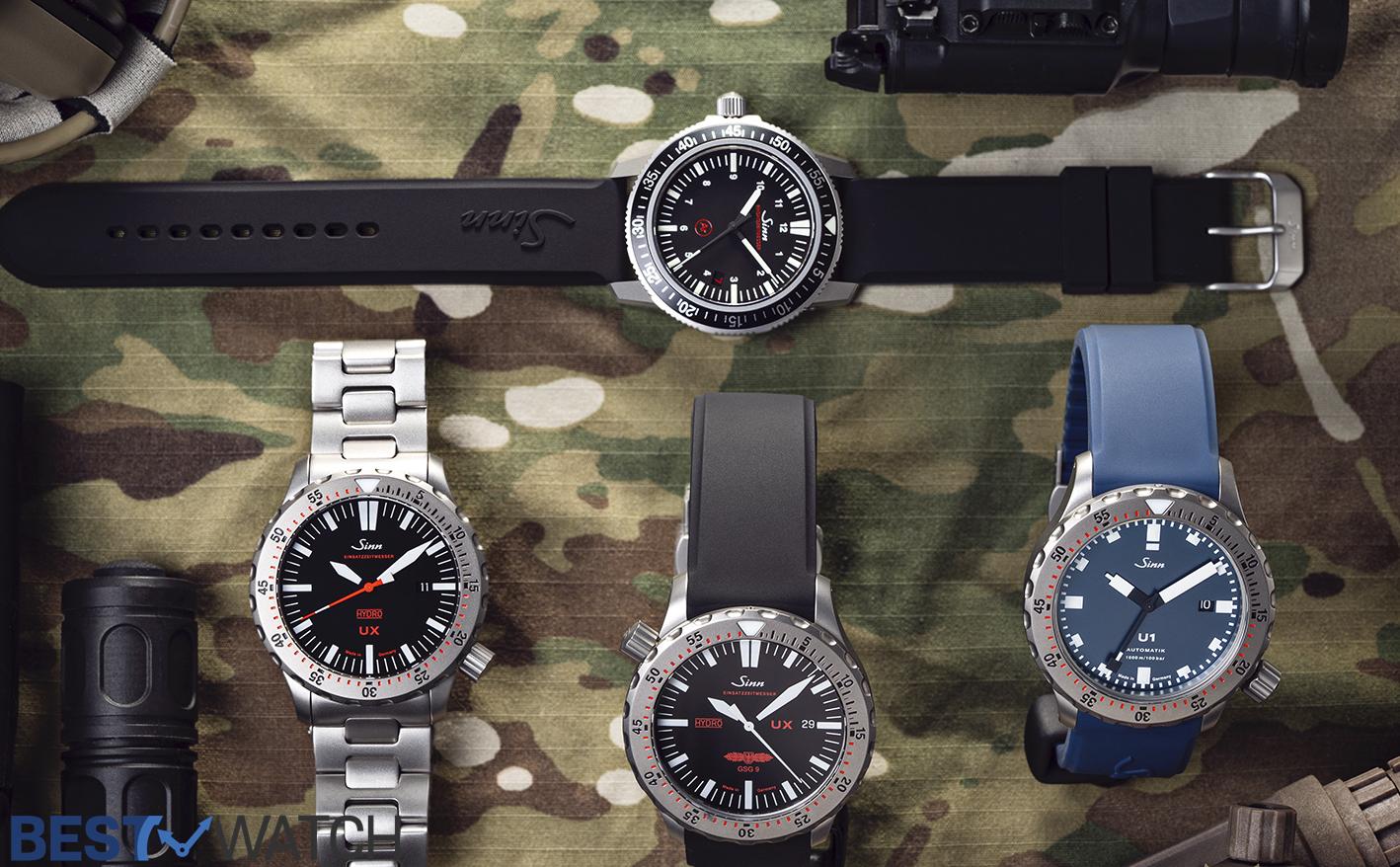 The Frankfurt am Main based company SINN is a pioneer in the manufacturing of high-quality tool watches suitable for both amateurs and professionals. The brand offers precision timing instruments and chronographs dedicated to pilots, sailors, divers, rescuers, medical professionals, firefighters and more. SINN's product range also includes both classic and contemporary dress wristwatches. In this article, we bring forward eight iconic SINN tool watches that proudly showcase the art of German watchmaking.

1. SINN 103

SINN Model 103 is a traditionally styled pilot chronograph, yet loaded with several advanced technology features. Taking inspiration from the aircraft cockpit clocks, these wristwatches offer a multitude of functions extremely useful for airmen and professionals. It is available in several versions depending upon the dial color and lay-out, case and bezel material, straps, movements or other features including the special technologies developed by SINN.
Based on the movement beating inside, these instruments chronograph timepieces offer additional functions like day, day-date and second-time zone. The self-winding calibres typically used in this series are ETA 7750, SW 510, LJP 8000 and Concepto C99001. This outstanding collection is typically comprised of stainless steel and titanium models. With a case diameter of 41mm, these robust and reliable tool watches are also available with proprietary innovations like Diapal and Ar-Dehumidifying Technology. They are water-resistant up to the depth of 200 meters. Model SINN 103 features the innovative captive pilot bezel, screw-in pushers and crown, sapphire crystal, and screw-fastened case back with display glass.
The SINN watches Singapore price range of Series 103 is approximately S$ 2,700 – 5,100.
2. SINN 104

SINN Model 104 is one of the best-selling tool watches from the German brand. This accurate timekeeper is equipped with the Swiss-made self-winding movement Sellita SW 220-1. The watch displays the date and day of the week, two highly useful functions in our everyday life. It has a 41mm diameter stainless steel case with a screw-down crown and a captive bezel. This all-rounder is water-resistant up to 200 meters. Both sides of the case have sapphire-crystal glasses.
Series 104 is typically known as a handsome tool watch because it boasts a classic elegance outlook in spite of its robust characteristics. This timepiece is available in anthracite, matte black, dark blue, metallic green and brilliant white dial options. Thanks to its well-proportioned exterior, ergonomic design, easy-to-read dial and robust movement, SINN 104 can be utilized as an ideal daily wear watch. Its current retail price range is about S$ 1,900 to S$ 2,500.
3. SINN 140

This distinct series inherits the legacy of the SINN 140 S Chronograph wore by Prof. Reinhard Furrer during the D1 Spacelab Mission in 1985. Equipped with a Lemania movement, this automatic timepiece offered tremendous chronometric performance even in a gravity-free environment. During the Mir-92 mission in 1992, Klaus-Dietrich Flade carried his 142 S along with him. Belong to the brand's 'Instrument Chronographs' range, the present generation of this space watch incorporates several technical advancements.
The new generation 140s (140 St and 140 St S) feature the SZ01 chronograph movement and stainless steel bead-blasted case. Specially developed by SINN, SZ01 is a self-winding mechanical movement based on the legendary Lemania 5100 calibre. It drives hours, minutes, small seconds, date and the chronograph with the centrally placed 60-minute stopwatch hand, chronograph centre seconds hand and the 12-hour register at 6 o'clock.
Water-resistant to 100 meters, this SINN watch measures 44mm diameter and 15mm thickness. The case body incorporates the Tegiment Technology for better scratch resistance. The model 140 St S additionally employs Black Hard Coating. Both versions feature sapphire crystal glass, interior rotating bezel, and nickel-free case back without Tegiment Technology. The other special SINN technologies incorporated in this series are the Ar-Dehumidifying feature and the D-3 system for push-pieces and crown.
The selling price range of SINN 140 series is approximately S$ 5,500-6,700 in Singapore.
4. SINN U1

U1 is a professional-grade diving instrument from SINN Spezialuhren. Made of German submarine steel, this ultimate tool watch is rated for water resistance of 1,000 meters/100 atm. Every U1 has been made according to the technical demands for the diving norm DIN 8306, European diving equipment standards (EN 250/EN 14143) and Anti-magnetic as per DIN 8309. This deep diver comes with a certificate for water resistance from DNV (formerly DNV GL), the world's largest classification society.
Measuring 44m diameter, the case is made of the same high-strength, seawater-resistant and nonmagnetic steel used on the external hulls of the German Navy's new submarine class 212. The watch is equipped with a captive bezel, with an option of Tegiment Technology for more scratch-resistance. The crown is positioned at 4 o'clock to prevent pressure on the back of the hand. The case is topped with sapphire crystal glass, with AR coating. The rear side of the watch is secured with a screw-fastened steel case back. It also features protective measures against low pressure. U1 is powered by the SW 200-1 Swiss-made self-winding movement.
An ideal instrument for professional divers, SINN U1 features an exceptionally visible dial that provides clear indications even in murky water. The watch is available in various dial versions like matte black, matte blue, White, Camouflage and special patterns. Some versions feature a special black hard coating on the case and bezel. In Singapore, SINN U1 is available in a retail price range starting from S$ 3,000 to S$ 3,500.
5. SINN U2

U2 is an extreme deep diving watch with water resistance up to 200 atm (2,000 meters). This model has been known as Mission Timer U2 (EZM 5). Following the footsteps of U1, it carries the waterproofness certification by DNV. These extreme watches also comply with technical norms like DIN 8306, EN 250/EN 14143 and DIN 8309.
U2 (EZM 5) is equipped with the Swiss-made SW 330-1 Self-winding calibre, which offers additional functions of Date display at 3 o'clock and the second time zone on a 24-hour basis. It has a 44mm diameter case made of German submarine steel. The other typical features of SINN U2 include Sapphire crystal glass, Captive Bezel with Tegiment Technology, Screw-in crown, and Screw-fastened steel case back.
This 2,000m diver incorporates the Ar-Dehumidifying Technology for enhancing functional reliability and freedom from fogging and the Temperature Resistance Technology for ensuring optimum performance even in extreme temperatures (from -45 °C up to +80 °C). Its approximate retail price range is S$ 3,500-4,500.
6. SINN 556

Inspired by the iconic pilot and navigational cockpit clocks made by SINN, Series 556 belongs to the brand's 'Instrument Watches' family. It is the most traditionalist and minimalistic timepiece from the renowned German tool watch manufacturer. Known for its striking appearance, simple dial design, and superior readability, this sporty tool watch comes with a compact stainless steel case measuring 38.5mm diameter and 11mm thickness. It highlights a satin-finish.
Featuring hour, minute and center-seconds hands, it is available with or without the date function. The existing dial versions are Black, anthracite, mocca brown, blue and mother of pearl.
The movement powering this timepiece is the Swiss-made self-winding calibre SW200-1. Water-resistant to 200 meters, SINN 556 features sapphire crystal glass, a screw-in crown, and a screw-fastened case back with a transparent window made of sapphire. The watch follows the German standards DIN 8310 for water resistance and DIN 8309 for anti-magnetism. In Singapore, the average selling price range of SINN 556 is S$ 1,500-2,500.
7. SINN 856

SINN 856 is a well-built automatic pilot watch an exceptional magnetic field protection up to 80,000 A/m. Featuring a bead-blasted stainless steel case measuring 40mm diameter and 11mm thickness, this timepiece is water-resistant up to 200 meters. The collection offers two categories. Models like 856, 856 S and 856 B-Uhr feature three hands with date configuration, whereas 856 UTC and 856 S UTC display the second time-zone.
These SINN watches are equipped with Swiss-made self-winding movements: SW 300-1 for the three-hand with date versions and SW 330-1 for the UTC models. All timepieces from this series are fitted with sapphire crystal glass, screw-in crown, and screw-fastened nickel-free steel case back. Every model from this range follows the technical requirements according to the German industrial standards for water resistance and anti-magnetism. SINN 856 also incorporates proprietary technologies like Tegiment and Ar-Dehumidifying.
Its Singapore price range is above S$ 2,600-3,000.
8. SINN EZM 12

EZM 12 is a mission timer specially developed for the air rescue service. Winner of the Red Dot 2019 and German Design 2020 awards, this timepiece boasts three special features for assisting rescuers involved in life saving missions. First one is a count-up inner rotating bezel for quick and easy reading of the specified time frames like the platinum ten minutes and golden hour. The watch also features a countdown outer rotating bezel and a Pulse rotor with PulsRotor scale for measuring heart rate.
EZM 12 comes dressed in a 44mm diameter case in bead-blasted stainless steel. The watch is water-resistant up to 200 meters. Its bezel and silicone strap are easily removable, allowing quick sterilisation using various disinfectants.
Equipped with the Swiss-made ETA 2836-2 automatic movement, EZM 12 features a day and date window at 9 o'clock. Featuring an impressive Magnetic Field Protection up to 80,000 A/m, the watch incorporates various SINN technologies. Both Tegiment and Black Hard Coating provide extreme scratch-resistance. The Ar-Dehumidifying system enhances functional reliability and freedom from fogging. Thanks to a special technology, this emergency mission timer can be used without any issue in extreme temperatures within the range of -45 °C to 80 °C.
Read More :