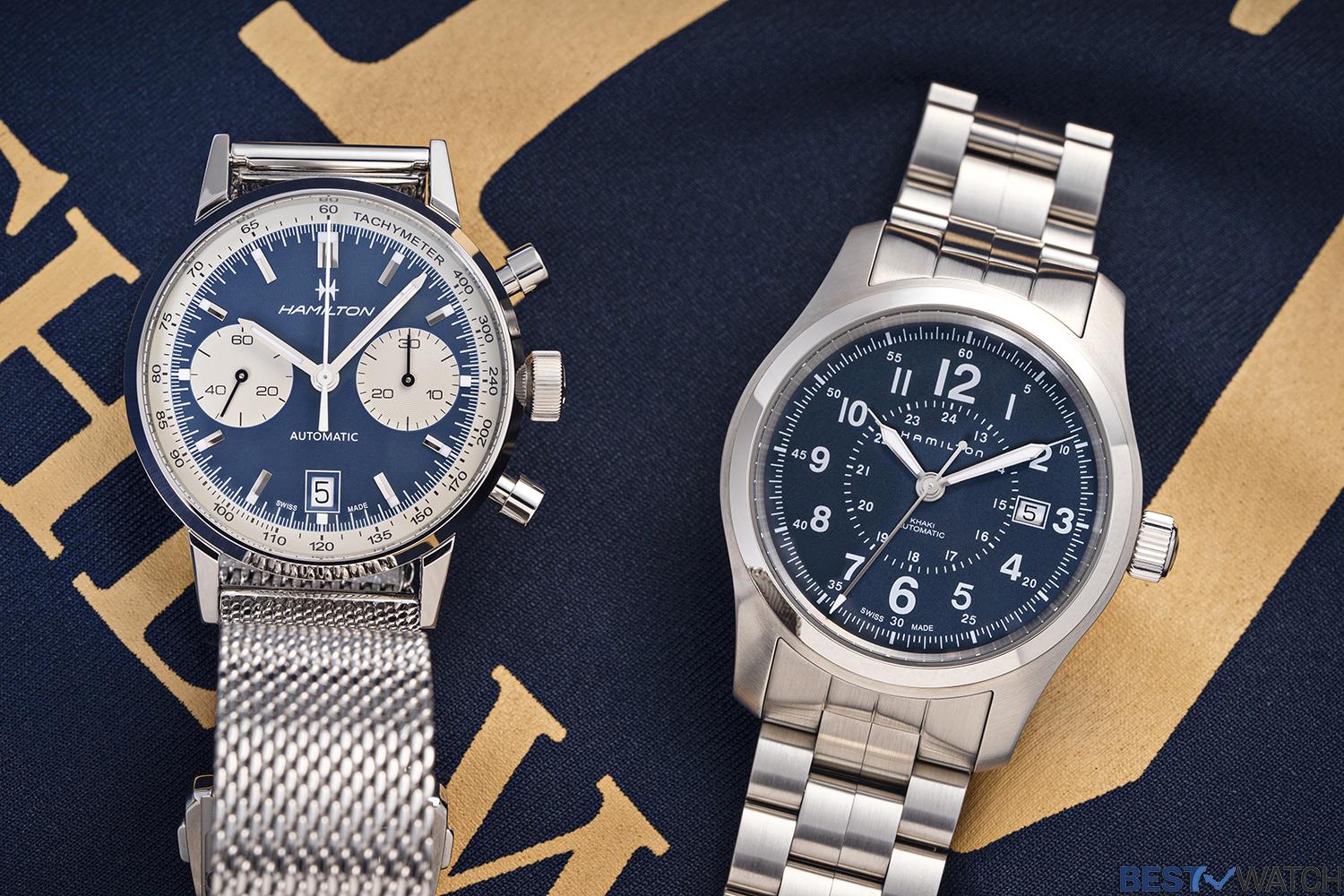 Originally founded in America in 1892, Hamilton is a revered watch brand in the mid-price category. It has been a part of the Swatch Group since 1974. Since 2003, Hamilton has been producing its timepieces in Biel, Switzerland.
Hamilton has been renowned for its highly dependable and robust tool watches since its beginning. Soon after its establishment in Lancaster, the brand achieved an overwhelming success in producing precision timepieces for the professionals of American Railroad corporations and U.S. Airmail service. During World War II, it became a major producer of military timepieces, marine chronometers and deck watches. The great watchmaking brand has also been known for its enduring alliance with Hollywood since the 1930s.
Presently, Hamilton produces a wide range of timepieces, including graceful dress watches and professional timekeepers. Proudly bearing the prestigious 'Swiss Made' label, these high-quality timekeepers successfully blend Swiss precision watchmaking with American spirit. The iconic brand's flagship collections are: American Classic, Broadway, Jazzmaster, Khaki and Ventura.

USP
A major selling point of Hamilton watches is their historic connection with the great American watchmaking legacy that dates back to the 19th century. Although a Swiss brand since 2003, Hamilton proudly boasts the American spirit that attracts an enormous number of admirers from all over the world. To a great extent, the exceptional quality standards of Swiss precision watchmaking enhance the brand value of Hamilton timepieces.
For manufacturing their timepieces, the iconic brand makes use of extensive expertise and immense resources of the Swatch group. All movements are made by ETA, the Swatch group company renowned for its high-quality watch calibers. Known for their reliability, precision and performance, ETA calibers guarantee accurate timekeeping. Additionally, the brand's vast and diverse product portfolio ensures an extensive choice of timepieces suitable for various occasions, styles and purposes.
Its parent company, the Swatch group, offers timepieces in all price categories, starting from the basic segment to the prestige luxury range. Their mid-priced marques are Tissot, Calvin Klein, Certina, Mido, Hamilton and Balmain. One of the top-ranked mid-luxury watch brands in the world, Hamilton offers a wide assortment of wristwatches, ranging from classic creations for formal wear to extreme timekeepers dedicated to professionals. The Hamilton watch Singapore price range is S$ 500 to S$ 4,000. In this range, the brand offers both quartz and mechanical wristwatches.

Popular watch models
Hamilton's most popular collection is Khaki, which includes professional tool watches made in accordance with military specifications. Available in three categories — Aviation, Field and Navy — the Hamilton Khaki collection offers Automatic, Manual-wound and Quartz models. The Khaki Aviation series offers timepieces suitable for aircrew and globetrotters. Khaki Field watches are dedicated to armed forces personnel, adventurers and military watch enthusiast. The Khaki Navy timepieces are specially created for naval personnel, sailors, divers and water sports aficionados.
Khaki Field
The Hamilton Khaki Field wristwatches are inspired by the iconic brand's illustrious history as a leading producer of military watches, especially for the United States Army. Popular case sizes are 38mm, 40mm and 42mm. If you are looking for a high-quality Swiss-made mechanical field watch within the price range of S$ 500 – S$ 2,000, this series has several choices of automatic and manual-winding models. The line includes time-only, date, day-date and chronographs. A prominent feature of the Hamilton Khaki Field watch is its two layer dial layout for accurately displaying military time, which follows a 24-hour format to differentiate day and night.

Khaki Aviation
Designed to comply with the operational requirements of flying community, the Hamilton Khaki Aviation family offers exceptional aircrew wristwatches. The series includes simple time-only models as well as multi-function watches equipped with complications like chronograph, GMT or converter. The wristwatches equipped with the Converter function can be used for calculating airspeed, distance, fuel consumption, rate of climb or descent and flight time. The retail price range of mechanical watches is S$ 1,000 to S$ 4,000. The Quartz Khaki Aviation models are available in the S$ 700 to S$ 1,500 price range.
These modern Khaki Aviation timepieces are available with case sizes like 41mm, 42mm, 44mm, 45mm or 46mm. An unusual model in this series is the vintage styled Khaki Pilot Pioneer mechanical manual-winding watch. A reinterpretation of a vintage military watch produced for the British Royal Air Force in 1973, this model has a 36mm x 33mm case.

Khaki Navy
The Khaki Navy series offers both quartz and automatic wristwatches capable of withstanding extreme atmospheric pressures. The important models from this remarkable collection are Scuba, Frogman, BeLOWZERO and Pioneer. Presently, the series offers wristwatches with 100, 300 or 1,000 meters water resistances. The price range of Khaki Navy is approximately S$ 700 to S$ 3,000. The least expensive model is Scuba Quartz, which retails below S$ 1,000. The recreational diving models like Scuba Auto and Frogman Auto have 300 meters water resistance. Retailing above S$ 2,000, professional diving watches like BeLOWZERO and Frogman Titanium are water resistant up to 1,000 meters.

Jazzmaster
Jazzmaster is the best-selling dress watch collection from Hamilton. This family consists of contemporary and elegant wristwatches for both men and women. It offers a wide range of timepieces in quartz and automatic categories. The comprehensive Jazzmaster collection includes minimalistic time-only models as well as elegant wristwatches with day, day-date, power reserve, or chronograph functions. The collection also offers models with the regulator, open-heart or skeleton dial layouts. The retail price range of Hamilton Jazzmaster watches is S$ 600 to S$ 3,000.

American Classic
American Classic is a collection of modern incarnations of the brand's historic timepieces. This acclaimed series is dedicated to customers who love the illustrious history of Hamilton watch brand. The most popular American Classic models are Ardmore, Boulton, Chrono-Matic 50 Auto Chrono, Intra-Matic, Pan Europ, PSR, RailRoad, and Spirit of Liberty. Depending upon the inspirational source, these watches feature either a classic vintage or a retro style. For instance, the Hamilton Intra-Matic Auto Chrono takes inspiration from the vintage chronographs from the 1960s. This outstanding collection includes quartz, automatic and manual-winding watches, with price range starting from S$ 500 to S$ 3,600.

Ventura
Ventura collection offers the modern interpretations of an iconic Hamilton creation that has been famously known as the Elvis Presley watch. Introduced in 1957, Ventura, the world's first battery powered wristwatch, quickly became a cult object. Featuring a unique triangle case, it is the most emblematic Hamilton watch model. The modern Ventura family includes both quartz and automatic watch models. The retail price range is S$ 800 to S$ 2,700. The series includes time-only, date, chronograph, skeleton and Open-heart versions. The Hamilton Ventura Collection also includes extra-large mechanical models like Ventura XXL Auto, which has a 45.5 x 46 mm case.

Broadway
Broadway is a contemporary, urban watch collection inspired by the New York's iconic theater district. Proudly reflecting a metropolitan attitude, this series offers wristwatches endowed with functions like Calendar, Chronograph or GMT. Available with quartz and automatic versions, Broadway has a retail price range starting from S$ 500 to S$ 2,700.

A great watch brand for beginners
Hamilton is a historically important and respected name in the watch industry. It has been considered as a great brand for the beginners. Many reasons reinforce Hamilton's popularity as a great mid-price brand for novice watch collectors and young customers.
Firstly, it offers a wide choice of different styles and types of wristwatches, within an accessible retail price range. Secondly, the modern Hamilton watches carry the prestigious 'Swiss made' label and they are equipped with the best movements manufactured by ETA. The brand also has the ability to create timepieces representing various design classes like classic, contemporary, retro and etc.
The brand's relationship with the Hollywood movies has increased the popularity of certain hamilton watch models, which are now highly sought-after by new generation watch collectors. For example, the Hamilton Ventura worn by Elvis Presley in his film Blue Hawaii (1961) is a widely admired style icon with a great collector's value. Since its debut in 1932 in the movie "Shanghai Express", Hamilton watches have appeared in more than 500 movies.
For beginners, quality of the timepiece is a major concern. Within the mid price range, Hamilton offers exceptional quality standards thanks to the all-round expertise of the Swatch group and its subsidiaries.
Read More :