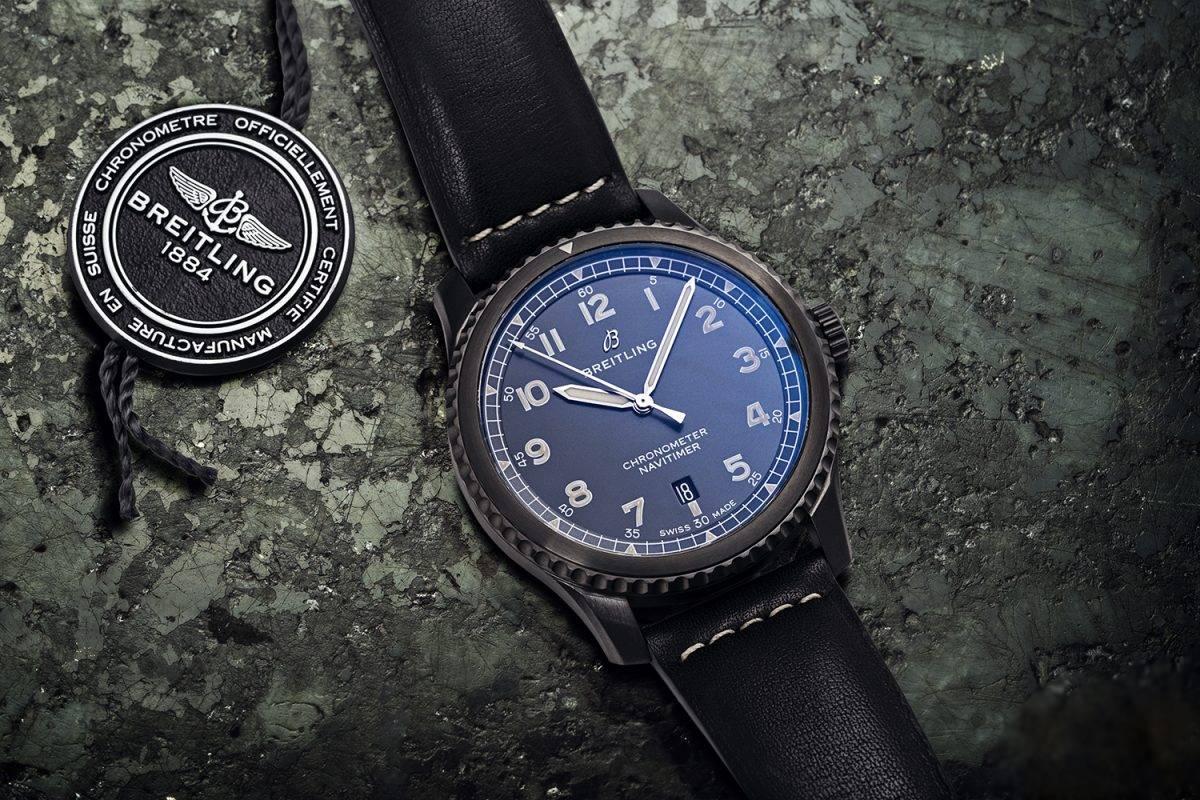 Founded in 1884, Breitling is a leading manufacturer of extremely precise timing instruments for professionals. The brand offers an impressive selection of wristwatches suitable for various activities like flying, diving, exploration, military operations, motor-racing, outdoor adventures and sports. It is also the third largest manufacturer of COSC-certified chronometer watches.
Breitling carries a great watchmaking heritage. Since its establishment, the local brand has been renowned for many innovations in the manufacturing of professional-grade timepieces like dashboard clocks, cockpit timing instruments and chronographs. From 2003, it has been funding the world's largest civilian aerobatics team. Moreover, the company's collaboration with the famed British luxury car brand Bentley was one of the most talked about partnerships in the fine watchmaking arena.
The flagship collections are Avenger, Chronomat, Navitimer, Premier, Professional, Superocean, Superocean-Heritage and Top Time. All breitling timepieces from the brand are certified chronometers.
Breitling Avenger

This collection is known for bold, extremely robust and shock-proof watches. Crafted specially for adventurers, combat pilots and professionals, the avenger series offers timepieces in 43mm, 44mm, 45mm or 48mm cases. The variants with 48mm case are known as Super Avengers.

Made of stainless steel or titanium, these sturdy timing instruments are available in chronograph, GMT and the popular three-hand with date compositions. The night mission models usually come with DLC coated titanium cases. Avenger watches usually feature unidirectional, ratcheted bezels for measuring elapsed time and special grip pattern crowns for easy handling, even with gloves on. The most used dial colors in this series are black, blue, khaki green, white and yellow.
The series includes self-winding wristwatches. The "three-hand with date" models feature the Breitling 17 movement. GMT versions have Breitling 32 and the chronographs are powered by Breitling 13 calibers. The popular models are avenger blackbird, Night Mission, Seawolf, Skyland, Hurricane and Bandit. Majority of them have water resistance of 300m (1,000 feet) where as the Seawolf model is water-resistant up to 3,000 meters (10,000 feet). The watches are available with three-links metal bracelets or calf-skin leather strap. The approximate retail price range is SGD 5,000 to 20,000.
Breitling Chronomat

Introduced in 1984 during the centenary of the brand, Chronomat is an all purpose watch. Dedicated to men and women of purpose, action and style, this timepiece can be worn on any occasions – ranging from everyday life to glamorous red-carpet events. Presently, this collection includes models like Chronomat B01 42, Super Chronomat B01 44 and the ladies' Chronomat Automatic 32 & 36 watches.
Breitling Chronomat is based on the iconic Frecce Tricolori chronograph, launched in 1983 in partnership with the celebrated aerobatic demonstration team of the Italian Air Force.
Both Chronomat B01 42 and Super Chronomat B01 44 are equipped with the manufacture self-winding mechanical chronograph movement, Breitling 01. The brand is offering stainless steel, two-tone and 18K gold variations of these masculine sports watches. Water resistant to 200 meters, these chronographs are fitted with unidirectional ratcheted bezels. They come fitted on a matching "Rouleaux" metal bracelet or rubber strap (plain or Rouleaux style).

This breitling watch collection also includes the Super Chronomat 44 Four-Year Calendar model. Equipped with the Breitling Calibre 19 self-winding mechanical movement, this variant incorporates chronograph and a semi-perpetual calendar mechanism, which needs adjusting just once every leap year. It has a water resistance of 100 meters.
The retail price range of men's Chronomat watches is SGD 10,000 to 35,000.
For women, Breitling is offering the Chronomat Automatic 32 and 36 models. Equipped with the Cal.B10 self-winding movement, the 36mm variant displays hour, minute, centre seconds and date (at 6 o'clock). Featuring the same dial configuration, the 32mm version is powered by the Breitling 77 thermo-compensated quartz movement.
These feminine sport-chic watches are available in steel, two-tone, 18K gold and gem-set versions. They come with various dial options like copper, mother-of-pearl, green, blue, pink, white and etc. The selling price range of chronomat ladies' line-up is SGD 5,300 to 37,000.
Breitling Navitimer

Navitimer is one of the most iconic collections from Breitling. Its origins date back to the early 1950s. The first Navitimer was exclusively created for the well-known US Aircraft Owners and Pilots Association (AOPA). In 1956, the brand released this pilot chronograph in the general market. Nowadays, the historic references from this acclaimed watch family are highly sought-after by collectors. Among them, Navitimer reference 806 is known as james bond watch because it was appeared in the movie Thunderball (1965). For this film, Sean Connery also used a modified Top Time Chronograph.

The best-selling timepieces in the modern Navitimer line-up are Automatic 35, 38 & 41, Chronograph 41, B01 Chronograph 43 & 46, B03 Chronograph Rattrapante 45, Chronograph GMT 46 and 1959 Edition. A stand-out feature of this collection is the iconic bi-directional beaded bezel with the slide-rule function.
The ladies Navitimer Automatic 35mm watch is equipped with the 17 movement. It is presently available in dial colors like copper, mother-of-pearl, blue and white. The case is made of steel, bi-metal or 18K gold. For this feminine wristwatch, the brand is offering metal bracelet (seven links) and alligator strap in attractive colors like brown, pink or white. Water resistance is 30 meters. The average price range is SGD 6,000 to 42,000.
Both 38mm and 41mm versions of navitimer automatic watches feature the Caliber 17, which drives hour, minute, centre seconds and date (at 6H). They feature steel, dual-tone or 18K gold case. For these timepieces, the brand is offering dial colors like black, blue and white. Water resistant to 30 meters, the watch is fitted on a matching metal bracelet or alligator leather strap. The selling price range is SGD 6,000 to 20,000.
B01 Chronograph (43 & 46) models are powered by the Cal.B01 where as the Chronograph 41 and the 1959 edition are equipped with Cal.B09. Both are self-winding movements and developed in-house by Breitling. Depending upon the model, the case material may be steel, bi-metal, 18K gold or platinum. The retail price range is SGD 8,000 to 55,000.
The Chronograph GMT 46 is equipped with the 24 self-winding mechanical movement. It has a massive 46mm diameter stainless steel case. In addition to chronograph and calendar functions, the watch offers an easily readable dual time-zone display. This multifunction timepiece is available with a calf-skin leather strap or steel bracelet. The price range is SGD 9,000 to 11,000.
Breitling Premier

The Premier collection derives its name from a series of elegant, fashionable wristwatches introduced in the 1940s. In 2018, the brand released its contemporary interpretation. It fuses purpose with style, performance, quality and eternal design. This series offers chronographs, day-date models and time-only watches. Notable timepieces are B09 Chronograph 40, B15 Duograph 42, B25 Datora 42, B01 Chronograph 42, Automatic Small Seconds 40, Automatic Day & Date 40 and B13 Chronograph 42.

The Premier family offers steel and 18K gold watches, featuring 40mm or 42mm cases. The available dial colors are black, blue, copper, brown, green and white. They are available with metal bracelet or leather straps (alligator or calf-skin) with folding or tang buckle. The approximate breitling singapore retail price range of the collection is SGD 5,500 to 40,000.
Breitling Professional

Considered as the ultimate instruments for professionals, these timepieces come with ultra-light cases made of Breitlight® or titanium. The prominent models from this line-up are Endurance Pro, Aerospace Evo and Emergency. They seamlessly integrate both analogue and digital displays to facilitate various functions. These breitling watches usually come with metal bracelets or rubber straps.
The Professional Endurance Pro watch features a massive 44m diameter case made of Breitlight®, a robust yet ultra-light material known for its superior resistivity to corrosion, scratch and traction. It houses the Caliber 82 SuperQuartz™ chronograph movement. Topped with a bi-directional compass bezel, Endurance Pro has a water resistance of 100 meters.

Aerospace Evo features a 43mm titanium case and a unidirectional, ratcheted bezel. It has a water resistance of 100 meters. This multi-function chronograph is powered by 79 SuperQuartz™ thermo-compensated quartz movement.
Breitling Emergency is the world's first wristwatch with a dual frequency distress beacon. Featuring titanium or DLC coated titanium case, this 51mm diameter watch houses the Caliber 76 SuperQuartz™ thermo-compensated quartz electronic movement.
The selling price range of the Professional series is SGD 4,600 to 26,000.
Breitling Superocean

This best-selling series offers high-performance diving watches. From the present superocean collection, the brand is offering various case sizes (36mm, 42mm, 44mm, 46mm and 48mm) and materials like steel, bi-metal, titanium and DLC. They feature robust case design, easily readable dial and unidirectional ratcheted outer-bezel with luminous markings.
Featuring the central three-hands with date configuration, all timepieces from the present generation Superocean are equipped with the B17 self-winding movement. They come fitted with a matching metal bracelet, rubber strap or fabric wristband. Popular dial colors are black, blue, green, orange, yellow and white.

Depending upon the version, the water-resistance varies. For example, the superocean 42 model is 500m water resistance where as the 36mm version has a depth rating of 200m. The 44mm, 46mm and 48mm models have water resistances of 1,000m, 2,000m and 3,000m, respectively.
The retail price range is SGD 5,000 to 8,000.
Breitling Superocean Heritage

This distinct collection harks back to the first generation Breitling dive watches of the 1950s. The present superocean heritage series is inspired by the designs of these iconic diving instruments. Noteworthy creations from this series are the Heritage 57, the B20 Automatic (42mm, 44mm and 46mm), the Chronograph 44 and the B01 Chronograph 44. Available in steel, dual-tone and 18K gold versions, these automatic watches are the modern interpretations of the historic Superocean references.
The Superocean Heritage '57 model pays tribute to the original 1957 diving watch. Its stand-out aspects include a concave bidirectional ceramic bezel and a distinct dial design featuring oversized hour-markers. It has a 42mm diameter case. Inside it beats the Breitling 10 self-winding mechanical movement driving the time-only display. Also available in 42mm Outerknown and 38mm Pastel Paradise editions, the Heritage '57 watch has a water resistance of 100 meters.

The Superocean Heritage B20 Automatic watch is available in 42mm, 44mm and 46mm versions. Water resistant to 200 meters, these watches are equipped with Caliber B-20, based on the Tudor MT5612 self-winding movement. They display the hour, minute, centre seconds and the date (at 6H). The case is mounted with a unidirectional bezel with a polished ceramic ring.
The Superocean Heritage series offers two types of chronographs. The first variant is equipped with the self-winding Caliber 13, based on the iconic Valjoux/ETA 7750 movement. The second variation houses the in-house Manufacture Caliber 01. Dressed in 44mm diameter cases, both versions feature unidirectional bezel with ceramic insert. These breitling chronograph models have a water resistance rating of 200 meters.
The retail price range of this collection is SGD 6,000 to 28,000.
Breitling Top Time

Breitling's Top Time collection was originally launched in the 1960s. It was reintroduced in 2020 with updated design and upgraded specifications. Dedicated to young and active professionals, they stand-out with elegant yet unusual dial designs. Presently, the brand is offering stainless steel watches with 41mm or 42mm cases. These self-winding chronographs are equipped with Breitling calibers 23 (bi-compax) or 25 (tri-compax). Notable models from the series are Triumph, Ford Mustang, Chevrolet Corvette, Shelby Cobra and Deus.
The breitling top time watches are available with nubuck or perforated calfskin leather strap. The estimated price range is SGD 7,000 to 7,500.