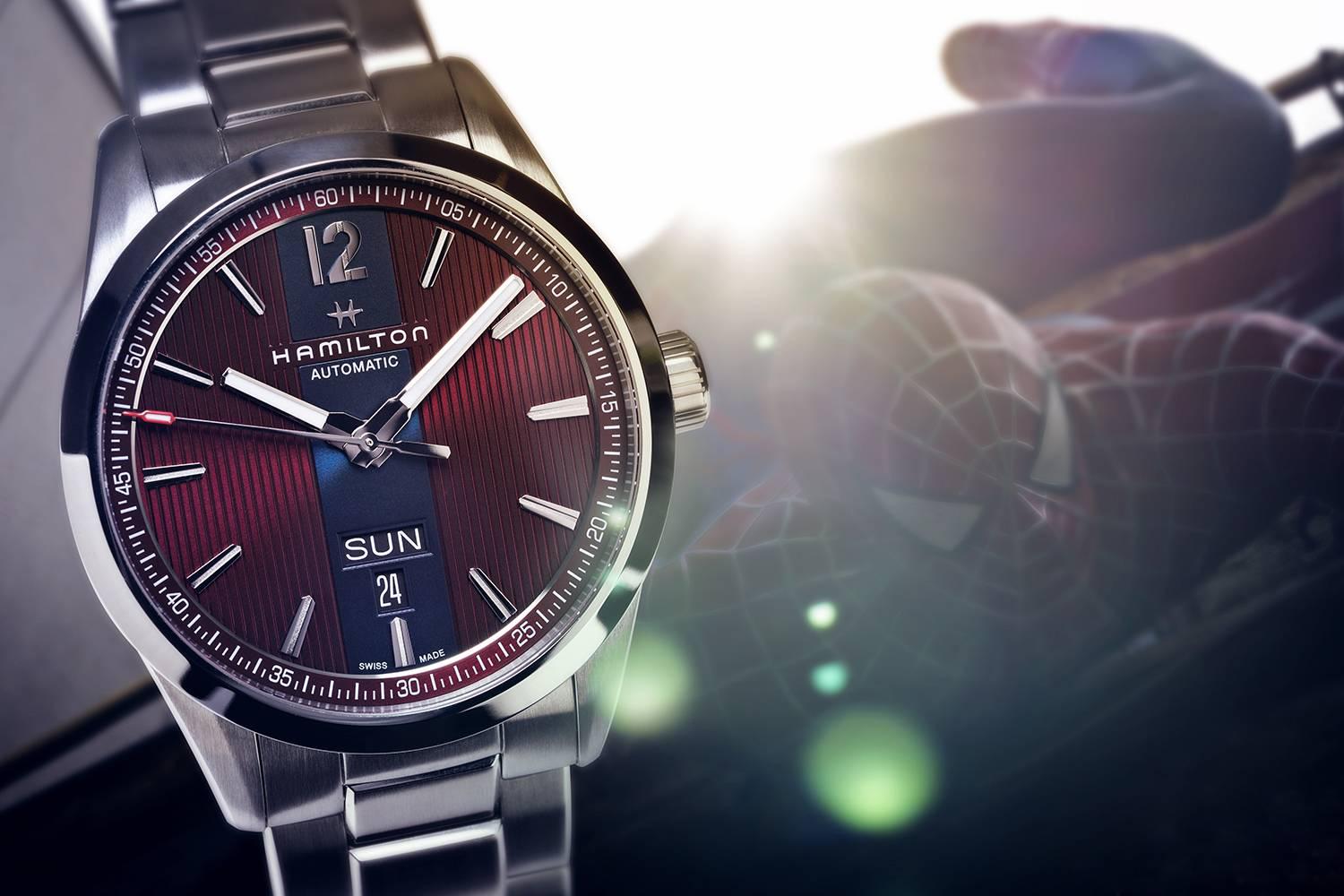 Introduction 
Born in America, Hamilton is one of the most admired watch brands in the world. Established in 1892 in Lancaster, Pennsylvania, the iconic brand has been closely associated with Hollywood since the 1930s.
Hamilton watch made its first movie appearance in 1932 in Shanghai Express with Flintridge and Piping Rock watch models. This marked the beginning of the brand's enduring affair with the silver screen. Since then, its timepieces have starred in more than 500 feature films. In this article, we talk about ten most important movie appearances of watches.
(1) The Frogmen

The Frogmen is an American World War II drama film released in 1950. It portrays the bravery of United States Navy Underwater Demolition Teams, popularly known as "frogmen." Considered as the first movie about scuba diving, The Frogmen has become an inspirational source for several marine commandos including United States Navy SEALs.

The company provided its Military Canteen watch for the film. Its leading star was Robert Wagner, who played the role of Lt. Franklin. The Khaki frogman watch evokes the brand's association with this movie.
(2) Blue Hawaii

Released in 1961, Blue Hawaii is a musical romantic comedy film. Its leading star was Elvis Presley, who opted to wear the iconic Ventura watch. With the appearance in the acclaimed romantic movie, this timepiece rose to fame.

Even today, its design features are considered as up to the minute. Presently, the brand is offering an impressive selection of automatic and quartz models from its modern Ventura collection. 
(3) Men in Black Series

MIB is a series of American science fiction action comedy films. The first movie – Men in Black – was released in 1997. In this, a Ventura quartz watch (reference H24411732) was used. In the second MIB sequel, Hamilton watch provided the Ventura Chrono Quartz (reference H24412732) and a custom digital wristwatch. In Men in Black III, Ventura Chrono Quartz H24412732 and Ventura Quartz H24411732 were used.

The Ventura watch has been renowned for its atypical case shape and retro-futuristic design features. In the present line-up, the brand has included models like Auto, Elvis80 Auto, Elvis80 Skeleton Auto, Open Heart Auto, POGYTHEMAN, Quartz, Quartz Chrono, S Quartz and XXL Auto. The estimated retail price range of this impressive collection is S$1,000-2,700.
(4) Pearl Harbor

In the famous Pearl Harbor (2001) movie, the Khaki Field Hand-winding watch (reference H69419363) was used. The characters played by Ben Affleck and Josh Hartnett wear this timepiece. This particular model is still a part of the brand's collection. It has a 38mm diameter stainless steel case topped with sapphire crystal glass, a military green dial and a matching canvas strap.

The Khaki field hand-wound watch is equipped with the H-50 mechanical movement. It provides 80 hour power reserve. The minimalistic dial displays basic timekeeping functions and date. Its retail price is about SGD 720.
(5) Amelia

Released in 2009, the movie Amelia portrays the life of legendary American pilot Amelia Earhart. Hilary Swank performed the leading role in this biographical film, and she wore a Khaki Field Quartz watch. This timepiece evokes the style of the iconic military watches. It houses a quartz movement.

(6) The Avengers

Hamilton provided two Khaki Field watches for the 2012 The Avengers movie. The character Tony Stark (played by Robert Downey Jr.) wears a 42mm Khaki field automatic watch in titanium. It features a black dial with centre hands and date. Driven by H-10 Caliber, this model has a power reserve of 80 hours.

It costs S$1,460 approximately. In this film, Captain America (played by Chris Evans) appears with a 42mm stainless steel Khaki Field Auto watch featuring a black dial and the precise H-10 movement. This timepiece is available for a price of SGD 800.
 (7) Interstellar

Interstellar is an epic science fiction movie released in 2014. In this film, two Hamilton watches appear. Cooper (played by Matthew McConaughey) wears a Khaki Pilot Day Date Auto watch. Its 42mm stainless steel case is topped with a sapphire crystal glass. Featuring a black dial and worn on a stainless steel bracelet, it evokes the style of aviator timepieces of the early twentieth century.
This hamilton khaki pilot watch is equipped with the H-40 self-winding movement. Rated for an impressive 80-hour power reserve, it displays the date at 6 o' clock and the day via a window positioned just below the 12H triangular marker. It has an approximate selling price of SGD 1420.

In this flick, Murphy Cooper (played by Jessica Chastain) wears a custom watch. Hamilton Khaki Field Murph Auto (reference H70605731) is the recreation of the timepiece that starred in Interstellar. This automatic watch features a 42mm diameter steel case and a black dial with beige Super-LumiNova® hour and minute hands. Its second hand highlights printed Morse code representing EUREKA. Inside the case beats the H-10 self-winding movement. The price of this model is around SGG 1,380.
 (8) The Martian

In the 2015 flick The Martian, Mark Watney (played by Matt Damon) wears a Khaki BeLOWZERO H78585333. The same watch appears on the wrist of Bob Stone (played by Dwayne Johnson) in Central Intelligence released in 2016. This model features a black PVD coated stainless steel case with 46mm diameter. Fitted with a helium escape valve, its water resistance is 100 atm (1,000 meters).

Powering this self-winding timepiece is ETA 2826-2, which displays hour, minute, seconds and date. Along with a black dial and a matching rubber strap, this stealthy timekeeper is suitable for various extreme missions. Its hamilton watch singapore selling price is SGD 2,620.
(9) Avengers: Endgame

In Avengers: Endgame released in 2019, Happy Hogan (played by Jon Favreau) wears Jazzmaster GMT H32695731. Provided with a second time-zone function, it houses the ETA 2893-2 self-winding movement with 50-hour power reserve. This hamilton jazzmaster watch features a 42mm diameter stainless steel case, sapphire crystal glass and a black dial with a date window at 6 o'clock. Its approximate selling price is S$1,750.

(10) Tenet

In Tenet (2020), John David Washington's character wears a Hamilton Khaki BeLOWZERO Titanium H78505330 watch. This automatic timepiece boasts a massive 46mm diameter case in black-PVD titanium. Ideal for deep-water missions, it has a staggering water resistance rating of 1,000 meters.

It features a black dial and a matching rubber strap for a stealthy look. The self-winding movement (H-10) provides an impressive autonomy of 80 hours. This all black hamilton watch model retails at SGD 2,620.