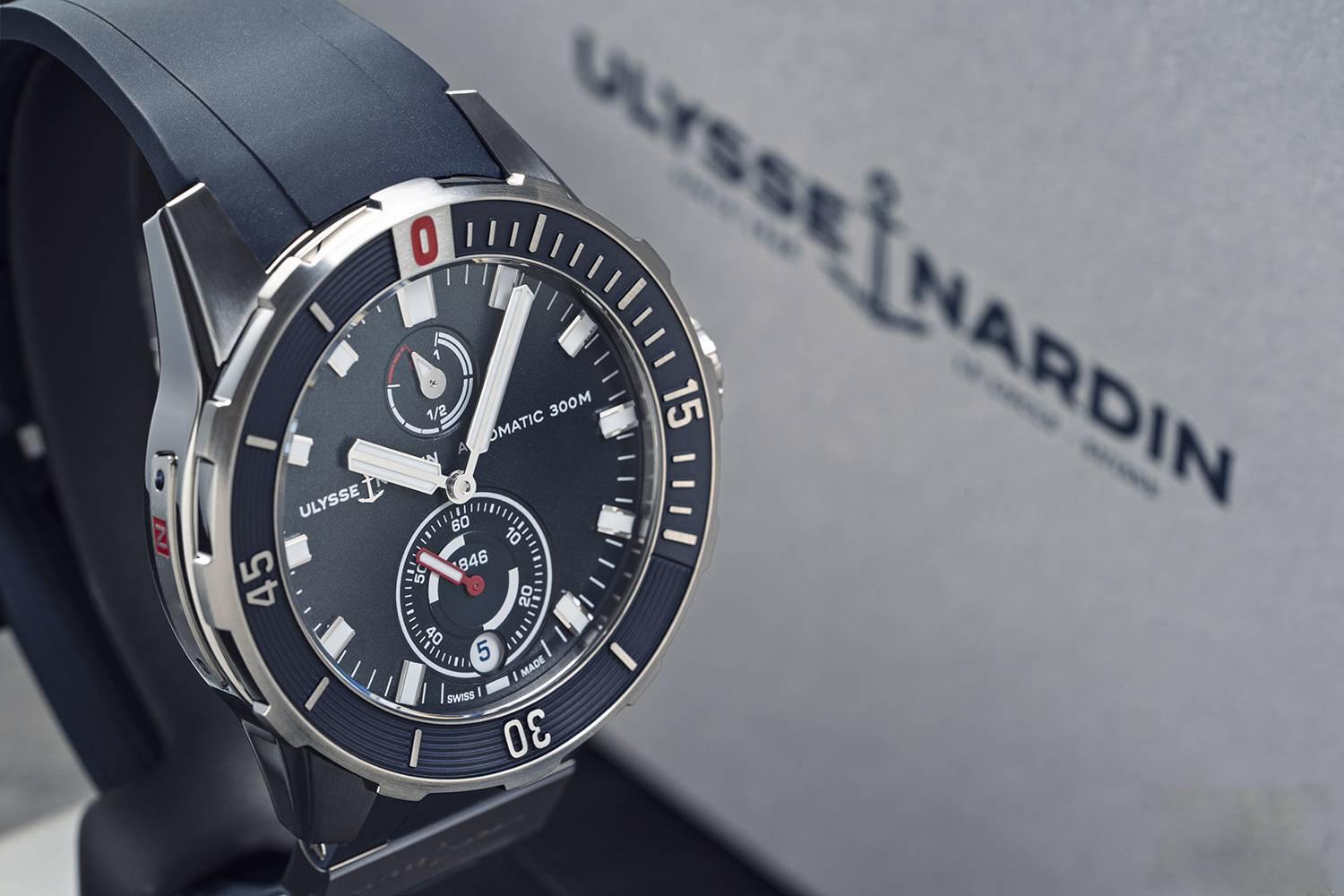 Introduction & History
Ulysse Nardin is one of the oldest swiss watch brands. The Le Locle based Manufacture has been known for its creative freedom and nautical heritage. Its flagship collections are Classico, Blast, Freak, Diver and Marine.
The company embarked on its horological adventure in the mid 19th century as a producer of marine chronometers. Ulysse Nardin, the visionary founder of the brand, was born in 1823. Passionate about the boundless oceans and famed explorers, he established a watchmaking workshop in 1846 to produce nautical timekeeping instruments. Within a short span of time, it began supplying high precision marine chronometers to commercial ships and navies throughout the world. The Manufacture also ventured into other horological complications like pocket chronometers, minute repeaters and etc.
The quartz crisis (from the late 1970s and early 1980s) was very challenging for Switzerland's traditional watchmakers. In 1983, Rolf Schnyder acquired the company. With the generous assistance of talented Swiss master watchmaker Ludwig Oechslin, he revived the prominent brand. His aim was to establish a fully fledged manufacture capable of producing in-house movements, dials, and various other components associated with premium timepieces.
In the mid 1990s, inspired by the illustrious maritime heritage of the distinguished company, Ulysse Nardin launched Marine Chronometer 1846, the brand's first marine chronometer wristwatch. The successful acquisition of Donzé Cadrans in 2011 was a strategic step. In 2012, it launched the first manufacture automatic movement. As on date, it maintains a significant inventory of mechanical calibers, which are entirely developed and produced in-house.
The prestigious Maison is also known for its extensive expertise in the field of enamel dials and Silicium technology. One of its notable innovations is the ulysse nardin freak watch with 7-day carrousel-tourbillon and silicon components.
Presently, the brand offers various types of mechanical watches, including high complications featuring complex mechanisms like minute repeater, perpetual calendar and tourbillon. In this article, we draw your attention to two core collections – Marine and Diver – for representing Ulysse Nardin's enduring association with maritime universe.
Ulysse Nardin Marine 
The Marine series is a purveyor of the iconic brand's glorious maritime legacy. This collection harks back to the Swiss manufacture's rich history as a leading supplier of seafaring nautical instruments to more than fifty navies in the world.
This comprehensive ulysse nardin watch collection includes two subcategories: Marine and Marine Torpilleur.

From the "Marine" series, the brand offers Chronograph, Chronometer, Annual Calendar Chronometer and Tourbillon watches with 43mm case. The Regatta, the Grand Deck and the Mega Yacht models feature 44mm diameter cases.

In the "Marine Torpilleur" series, Ulysse Nardin has included 42mm and 44mm watches. Torpilleur is the French word for torpedo boat, which was introduced in the late 19th century for naval warfare. The Torpilleur, the Torpilleur Tourbillon and the Torpilleur Moonphase models come with 42mm case. Both the Annual Chronograph and the Military versions measure 44mm.
All these precision timing instruments are equipped with in-house movements endowed with Silicium technology, which enhances the antimagnetic properties for ensuring ultimate precision. This best-selling series offers stainless steel, bronze, black DLC, 18-carat gold and platinum versions. These marine watch models usually feature fluted bezels. 
Presently, the Marine Watch series is offering three dial colors: black, blue and white. The most distinguishable dial details include Roman numeral hour markers, the marine chronometer style small seconds hand and the inscription of founding year of the brand. The Marine Torpilleur Military model has Arabic numerals instead of Roman indexes. In this swiss military watch, the small seconds counter displays the serial number instead of 1846. The tourbillon models do not feature the signature small seconds hand.
Except chronographs and some specific models (the Military edition, Regatta version and Mega Yacht), all timepieces from the Marine collection feature a small power reserve indicator just below the 12H marker. The limited edition Mega Yacht incorporates flying tourbillon, moon-phase, tide indicator and a unique power-reserve display mechanism inspired by ship's anchor and windlass.
The average ulysse nardin singapore price range of this valuable collection starts around S$10,000. The exclusive models like Mega Yacht cost above S$400,000.
Ulysse Nardin Diver
Faithfully expressing the Manufacture's seafaring heritage, this series offers exceptional diving timepieces created exclusively for daring ocean explorers. The Diver collection offers various underwater exploration watches with 100m, 200m, 300m or 1,000 water resistances. In addition to regular versions, the brand also proposes limited editions like Great White, Lemon Shark and Monaco.
(1) Diver 42mm

Water resistant to 300 meters, the gent's 42mm Diver model features a three centre hands (hour, minutes and seconds) layout with a date window at 6H. Typically made of stainless steel, this timepiece is available with dial colors like black, blue and grey. This modern diving instrument unites a vintage themed profile with an uncluttered dial lay out. It features rectangular-shaped hour-marking indexes, lollipop centre seconds hand, and baton-shaped hands for displaying the hour and minutes. The area just above the date is adorned with the GPS coordinates of the Manufacture.
Equipped with the self-winding UN-816 caliber, the 42mm diver watch is available with leather, metal or fabric straps. The stainless steel bracelet is offered with three-link or Milanese mesh pattern. The retail price range of this timepiece is approximately S$8,500-10,000.
(2) Diver Chronometer 44mm

The Diver Chronometer 44mm model features a titanium case with a water resistance of 300 meters. This COSC-certified timepiece houses the UN-118 Manufacture automatic movement. Featuring a black, blue or grey dial, it displays centre hour and minutes, small seconds, date and power reserve. This bold-sized ulysse nardin diver is available with a titanium three-link bracelet or rubber strap. The selling price range is S$12,000-18,000.
(3) Diver Chronograph 44mm

The Diver Chronograph 44mm is an exceptional creation from this series. Capable of exploring the ocean depths up to 300 meters, this massive timepiece comes with extremely useful stopwatch functionality. Dressed in a titanium or 18-carat gold case, it efficiently utilizes the UN-150 Manufacture self-winding movement. The selling price range is S$17,000-55,000.
(4) Diver Deep Dive 46mm

The Diver Deep Dive 46mm is a professional underwater exploration watch. Water resistant up to 1,000 meters, this extremely robust titanium timepiece is equipped with a detachable crown guard and a helium release valve. It houses the UN-320 Manufacture self-winding movement. It displays the hour, minutes, small seconds and the date. Depends upon the model, the dial features black or blue color. The extreme deep diver watch retails in the range of S$17,500-19,000.
(5) Lady Diver 39mm

This impressive range is dedicated to daring female explorers who also love to wear glamorous accessories. Water proof up to the depth of 300 meters, these 39mm diameter watches proudly reflect the beloved brand's maritime legacy with enchanting beauty associated with premium ladies' timepieces. They spotlight eye-catching details like gem-set bezel and diamond markers. Just like the Gent's 42mm series, this collection utilizes the self-winding UN-816 in-house movement.
The Lady Diver watch is available with stainless steel or bi-metal (steel and gold) cases. They come fitted on leather, rubber or fabric straps. The Singapore ulysse nardin price range of the collection is S$12,000-35,000.
(6) Diver X

This ultra-modern diving watch belongs to the newly inducted X series. Combining cutting-edge design and revolutionary materials like Titanium and Carbonium, the Ulysse Nardin X collection includes Blast, Diver X and Freak X editions.
Diver X features a 44mm diameter case with water resistance up to 300 meters. Its dial highlights the prominent X structure, an emblematic feature of all X series watches. The luxury brand is also offering the Diver X Skeleton 44mm version with 200m water resistance. Both models are equipped with self-winding movements. Endowed with innovative Silicium technology, they provide exceptional timekeeping precision. The price range is S$13,500-30,000.