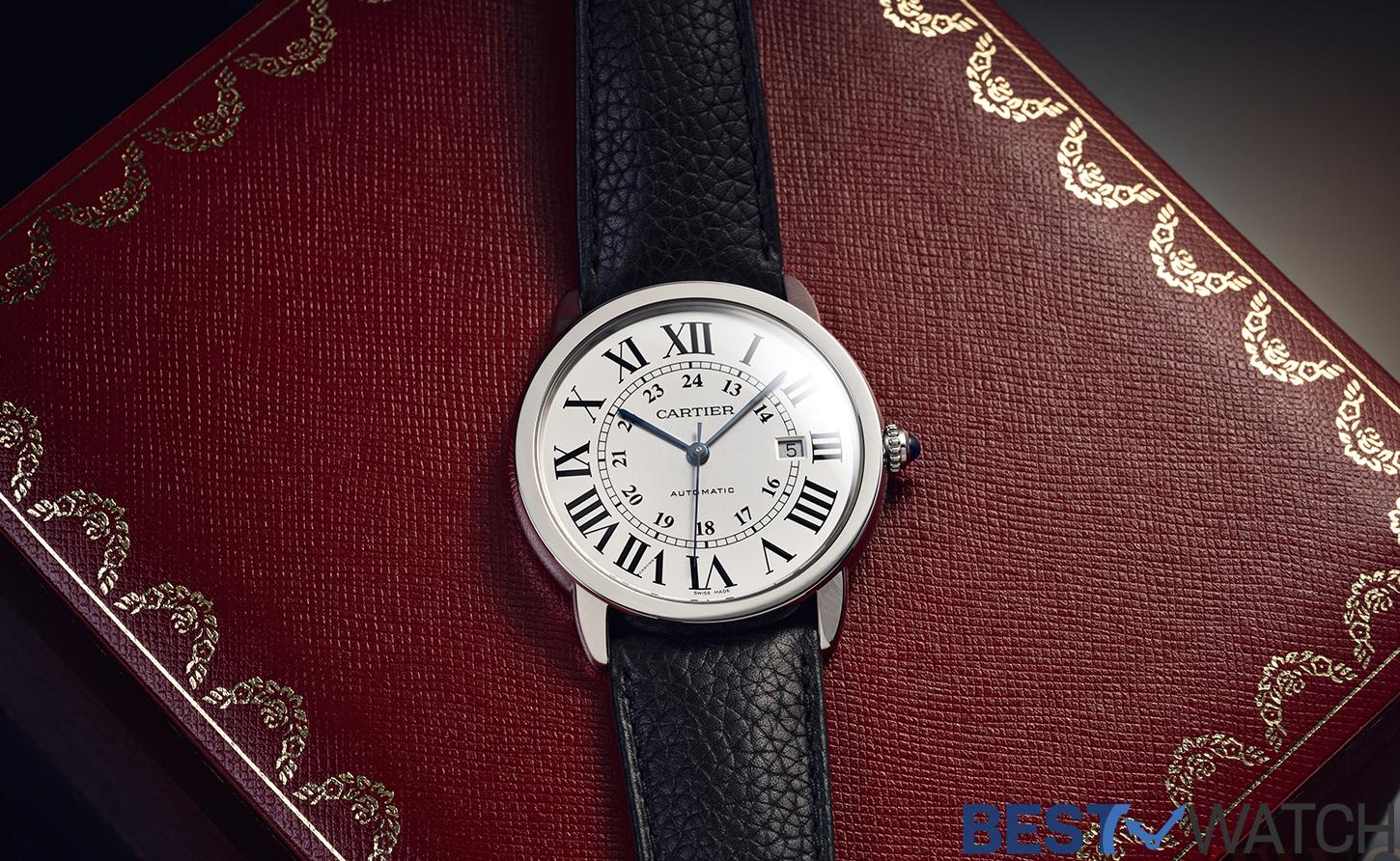 Speaking of any good wardrobe, a wristwatch is a very important apparel as it is able to communicate of your personality, alongside the fashion part. Despite the debut of the tech-savvy smartwatches in recent years, traditional timepieces are still notably iconic in the trend, although most possess some modern attributes. 
But why would a global figure like Mitchell Obama or Kim Kardashian prefer a watch like Cartier Tank over the ultra-modern model from the renowned Apple or Samsung?
Well, it's just simple. A Cartier watch is clean, classic, and convey luxury! Their design is irreplaceable. And that's why it will always remain for the Royals.
With time, commitment, and an urge to assist you in your wardrobe. In today's post am going to share with you some of the Cartier watches that are notably highly treasured. And literally designed to bring out your true femininity, or manliness.
Cartier White Gold Tank Americaine- Ref. WB7073l1

For the fans of ornate elegance, this watch is truly a must-have. 
As one of the best Cartier ladies watches, WB7073L1 Cartier Tank Americaine watch features a stylish ornamental white gold case. That makes megastars Kim Kardashian and Lindsay Lohan miss their '80s moments even more. 
For uniformity of its subtle elegance, the 18K white gold bezel of this Cartier tank is set with baguette diamonds, which appear to blend impeccably with the silver grained dial. To ensure the splendor of timepiece is on the look and functionality, WB7073L1 Cartier Tank Americaine runs with caliber 157 quartz movement. Thus remarkably reliable to align you with the American punctuality.
In case you are a fan of snorkeling, don't approximate your dive time. Submerge to up to 100 feet depth wearing your watch without fear of any water-related damage, including rust.
Platinum Cartier Tank Cintrée Skeleton- Ref. WHTA0009

For the gents who love complication, intricate and sophisticated Cartier watches for men are now available. One model being WHTA0009 Platinum Cartier Tank Cintrée Skeleton. Comprised of a 34mm platinum case, this Cartier tank watch tops your style with an extraordinary finish, following its skeletonized movement which is slightly curved to tone with its slim case. 
With a high-ranking as one of the best manually-wound Cartier watches, WHTA0009 Platinum Cartier Tank Cintrée Skeleton uses caliber 9917 MC- powerful and ultimately reliable, to run. To make it adjustable with most of your fashion themes, the Cartier tank model has an excellent black alligator skin strap. That is hypoallergenic and with an adjustable stylish buckle for a fine and secure fit. That being said, however. The timepiece is entirely non-waterproof, though rustproof and cleanable for a long-lasting shine.
 "Flashy" Diamonds Cartier Tank Anglaise– Ref. WT100018

While men are attached to the dull, Women, on the other hand, are insanely bonded with the bright profiles. With an aim to connect with every lady who comes across it, the WT100018 Diamonds Cartier Tank Anglaise watch is categorized in the group of flashy Cartier watches. Following its robust alligator skin straps which gleams in fuchsia-pink color. 
As a luxury timepiece, the Cartier Tank model features an 18K white gold case which has been covered with 89 baguette diamonds and a silvery Lacquered flinqué dial. 
For the women who preciously treasure a complicated watch-design, the WT100018 Diamonds Cartier Tank Anglaise has a self-winding movement. Which not only provides you with hours & time precision, but with date function at 3 o'clock as well.
Adjustable Cartier Tank Solo Steel Watch- Ref. W5200028

Are you one of the men with inconstant taste? Struggling to find a perfect wristwatch that blends with numerous fashion styles? 
Well, why not try W5200028 Cartier Tank Solo Steel watch? It's classic. Simple. And exceptionally chameleon-like! Unlike most of the mechanical watches, this Cartier Tank model is daringly playful. Following its interchangeable straps which can be in classic steel bracelet in Monday morning, then as zesty blue-leathered straps when on the beach later on the day. In case you wish to snorkel, the timepiece is impermeable for up to 100 feet, thus you can dive wearing it without fearing.
Since precision is as much important as the elegance, W5200028 Cartier Tank Solo Steel watch functions with caliber 049 (ETA 2892-A2). Therefore, exquisitely precise on time, as well as on the date function at the 6 o'clock indicator.
Cartier Tank MC Chronograph Watch- Ref. W5330005

Still wondering if there are any Cartier watches with chronograph functions? They are, for sure! One of the celebrated model being the W5330005 Cartier Tank MC which is available in Rose gold for a piquant ultra-luxurious moment as a man. Due to its silvered Guilloche dial and the sturdy alligator skin straps which comes in brown/ black color, this timepiece is essentially adjustable to any fashion for any occasion. 
At the core of its beauty, this Cartier tank watch operates with a 35-jewel caliber 1904-CH MC automatic movement which can power the timepiece for up to 48 hours. Whilst, providing chronograph functions at 3 and 6 o'clock. Additionally, at the 6 0'clock marker, W5330005 Cartier Tank MC has a calendar tool. Hence, one of the best Cartier watches for timing your dates' date.
 Cartier Tank Francaise Ladies' Gold- Ref. W50002N2

Reliable. Modish. And ultimately golden. The W50002N2 Cartier Tank Francaise Gold watch presents every of its female wearer with a simple-but-classy flair, following its entire yellow-gold profile. The fixed bezel, 29mm case, bracelet, and the crown embedded with a sapphire cabochon are all comprised of solid 18K yellow gold. 
For optimum efficiency, this luxury Cartier Tank has a quartz movement and the bracelet with a double deployment clasp for extra coziness.

Though there are dozens of Cartier tank models, the six discussed are the top-best models that have been burnishing the legacy of the Cartier watches. Following their unique design which serves as a blend of technical excellence and geometrical style. With a watch model like the W5200028 Cartier Tank Solo, as the wearer, you not only have the exquisite accuracy of time and date. But also a watch design that is set to blend with every of your lifestyle, following its interchangeable straps that are easy to equip and maintain.
Read More :