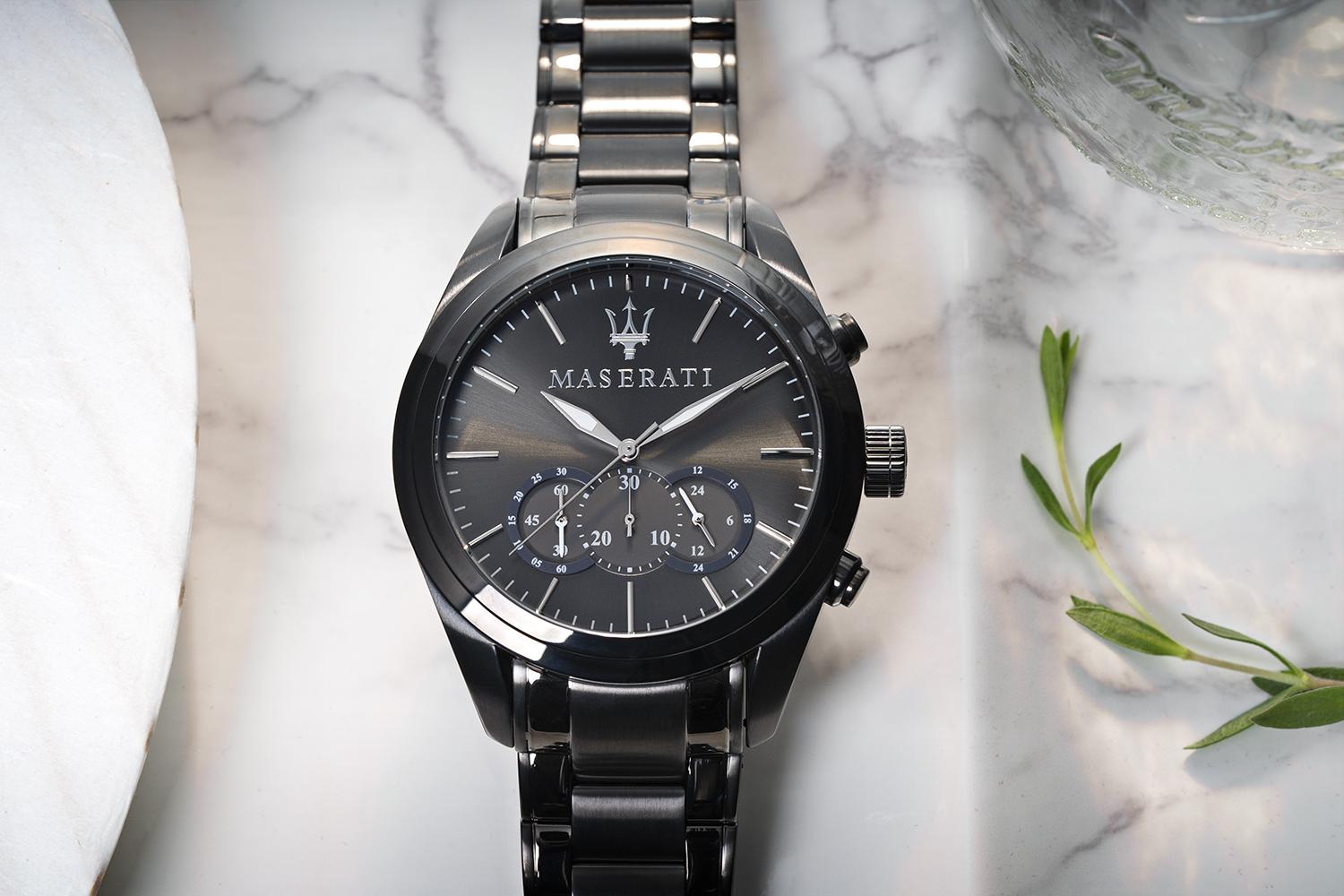 We actually don't need to be a car enthusiast to know about the luxury vehicle brand Maserati and its flashy racing cars. Yet do you have some ideas about its watches? Lately in the high end fashion world, people are starting to notice the Maserati watches for their sleek design and relatively high quality. 
How Maserati Started to Make Watches
Maserati should be one of a few brands that require no introduction to most people in the world. Ever since its establishment in 1914, by the Maserati brothers in Bologna Italy, this Italian luxury brand has gained massive success and fame with its high-performing Formula 1 and GT as well as luxury road automobiles. 
Upholding their rich heritage, its signature Trident Maserati logo has represented extravagance and status. Every product carrying its mark is also presented with the brand's pride and quality. In addition to their overwhelmingly desired sports cars, Maserati has expanded their market with a series of well crafted timepieces for both modern men and women, offering a full look of Maserati style. 
This highly-esteemed and award-winning giant skillfully makes use of its superior Italian design aesthetics and engineering, and incorporates them into their own timepieces. Featuring cutting edge designs, promising quality and budget friendly price range, the Maserati watch has captivated the hearts of both Maserati supporters and also racing watch enthusiasts who are willing to enjoy the legacy of the brand. 

The production of Maserati watches began in 2012 when the brand formed a partnership with the renowned Italian watchmaker, Morellato. Facilitating Maserati's journey in the watchmaking industry, the experienced watch manufacturer Morellato has been using its expertise to help Maserati develop and assemble their iconic watches as well as to build its name in the global watch market. 
Today, Maserati is now half-owned by a Dutch corporation, the Stellantis N.V. group. And under its leadership, the brand continues to produce both quality luxury watches for men and women at an affordable package.
Does the Maserati Watch Worth Buying? 
You would probably ask this question since Marerati is known for its mastery of motorsports but not watchmaking, Well it is understandable as the brand is not even making the watches itself. However in my point of view it is actually quite an acceptable deal at such fair pricing for motorsports or car lovers. 
In terms of design, the brand's pure Italian artistry and distinct aesthetic are proficiently showcased in their notable watch collections. Their Sport and Lifestyle series both offer sporty and smart looking watches with flashy lavish appearances. On the other hand, their Classic and Design lineups are housing refined dressy and stylish watches that cater the needs of all watch collectors. 

These Maserati watches are also fairly well crafted that sustain the reputation of the brand. They are made from quality stainless steel in a range of dial color options such as silver, black, gold, or gunmetal, pairing with matching bracelets or dark leather straps. 
Inside the case, the watch is fitted with reliable outsourced movements ranging from automatic, quartz or solar-powered calibers, from Switzerland and Japan. These robust watches are equipped with sturdy protective mineral crystals covering the dial. Some of these notable models even feature open-heart skeleton dials which reflects the brand's sophisticated attention to details. 
Moreover, the strategy of its price range is another attractiveness while delivering such design, quality as well as the legacy of the brand. For a Maserati watch, the Singapore market is usually selling at a range around S$200 to S$500. So if you need a reliable and affordable fashion watch that carries a huge brand name to turn heads, a Maserati watch has got you covered.
Features of Maserati Watch Models

To this date, Maserati has already kept a versatile collection offering an impressive selection of fashion watches. With "Motorsports" being the core theme of its design, there are various collections available ranging from classic to sporty. Basically the brand has splitted its watches into four main categories: Sports, Classic, Design and Lifestyle. 
As a racing automobile brand, its sporty watches are the most sought-after models from the Maserati watch limited edition such as the popular Maserati Potenza watch and the Maserati V8 watch series. 
Maserati Design Watches
As suggested by its name, the Maserati Design series is more focusing on its Italian design aesthetics. This collection aims to offer daring and stylish timepieces that turn everyone's head on any occasion. 
Inspired by the contemporary sports cars of the revered Italian brand, this outstanding collection has prominently incorporated aerodynamic profiles, extraordinary design details and exclusive features into their timepieces. Their most sought-after model is the Maserati Stile series. Every piece of work in this collection is considered as a proud reflection of the pioneering spirit of Maserati. 
Maserati Sport watches

This collection consists of the brand's most popular models. Designed exclusively for the adventure lovers who live up a passionate lifestyle, Maserati Sport is an exquisite house of sporty and cutting-edge timepieces. The design of these watches were inspired by the brand's superb engineering details of its globally desired sports cars. Amongst the collection the main models are mostly masculine watches for men such as Maserati Traguado, Maserati Sfida and GT lineups. 
Maserati Classic Watches

For its dress watches, the brand has been dedicating efforts to the Maserati Classic collection. Holding up the heritage of this esteemed Italian car brand, these Maserati dress watches skillfully blend the motorsports design elements to the modern build, delivering a timeless and elegant look that shines on every occasion. The notable models from this sophisticated collection are Maserati Legend, Maserati Epoca, Maserati Eleganza, and Maserati Ricordo series.
Maserati Lifestyle Watches

The Maserati Lifestyle collection is offering more chic and casual options for the wearer's daily use. Highlighted by the brand's iconic style and design details, these distinctive timepieces seamlessly blend in the wearer's lifestyle and reveal the personality. It offers both sporty look and elegant style with their notable models: Maserati Gentlemen, Maserati Competizione and also Maserati Successo series.  
Holding up the reputation of its sports car, every Maserati watch is well crafted with the utmost attention to every detail. No matter if you are owning a Maserati sports car or not, Maserati Watches are an ideal pick for car lovers and everyone who are fond of Italian style.