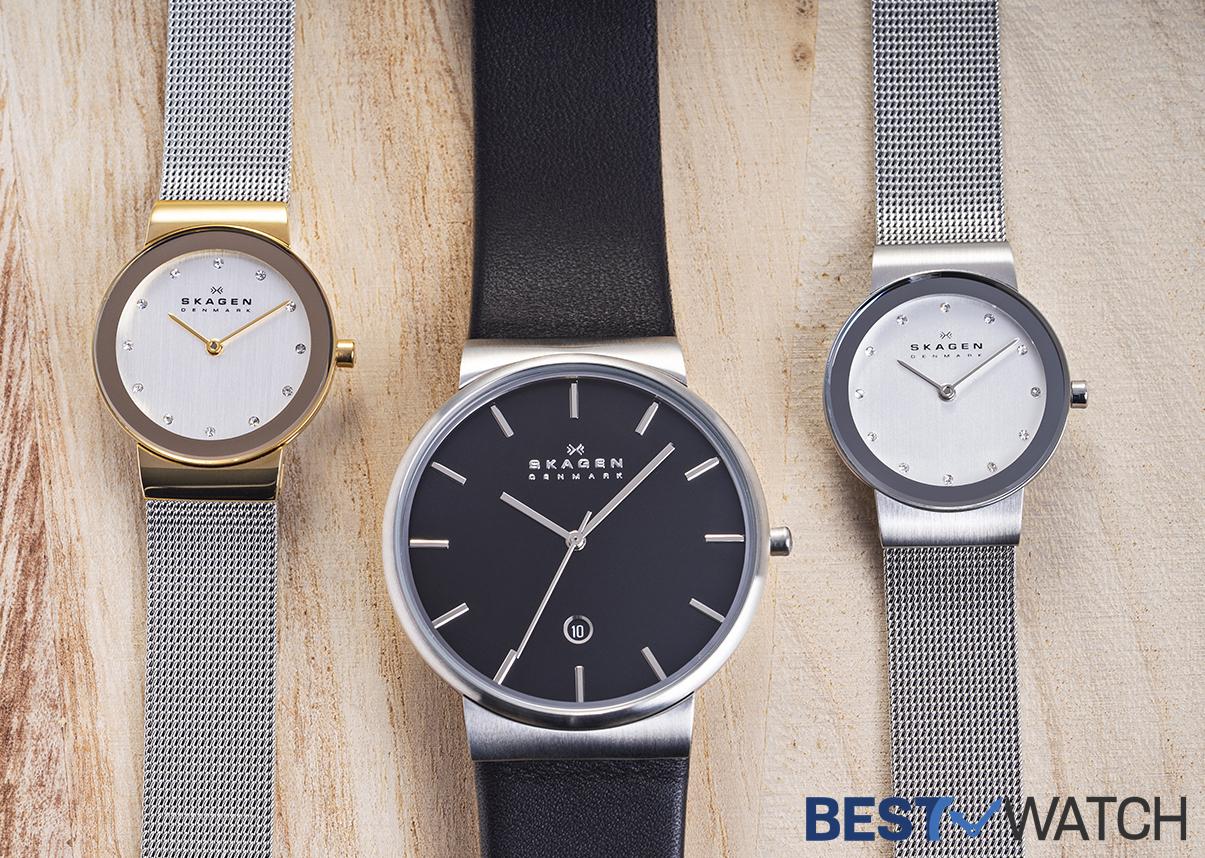 Sometimes you won't need to break the bank for a nice watch. The legendary brands such as Rolex and Omega are indeed magnificent, but there are also tons of affordable choices that you can add to your collection. 
Let's take a look at Skagen Denmark. Known as Skagen, it has been making watches for more than 30 years now. With the simple and minimalistic design, a Skagen watch will be one of those you would think definitely belongs in the list.
Things You Need to Know About Skagen Watches
History of Skagen

Its name "Skagen" is originally from the name of the most northernmost town of Denmark. It is a famous tourist attraction where nearly 2 million people flock to for travelling per year.
The Danish founders, Henrik and Charlotte Jorst, of Skagen Denmark, claimed that they designed their products in the same elegant and simple beauty as the town of Skagen itself. Even the logo of the company was inspired by Kattegat and Skagerrak, which are the bodies of water that border the Skagen town.
Despite the background concept of its name, Skagen is actually a US company found in 1989. Having been around for decades, the company had managed to go global, entering markets in Europe, Asia, and the Middle East. Especially the Skagen Singapore office has succeeded in developing various points of sales through different channels. Its rapid growth has raised the interest of the Fossil Group and agreed to purchase Skagen Denmark in 2012. It is now operated as a subsidiary brand of The Fossil Group.
Prices of Skagen Watches
Most Skagen watches are going to retail for around US$100 to US$300, indeed there should be pricing variations from store to store. You can always find some nice Skagen watches for men under US$150, even their Smartwatch, Skagen Falster 2. Of course they have some elegant Skagen watches women would definitely love for gifts. However, for their latest smartwatch model Skagen Falster 3, it will cost you a bit more than that. 

How Good are Skagen Watches?
Skagen is seen as a fashion brand with affordable prices. Yet the Skagen watches have won multiple Red Dot Awards for their watch design. They have been praised by many of the wearers for its comfortability. 
The Skagen watches are usually a little thinner and lighter than some average fashion watches. But it doesn't mean that the watch is low in quality. They mainly house high-quality quartz movements and stainless steel cases, while some collections feature titanium as well. Skagen can be adaptable so that the watch can perfectly fit the anatomy of the wearers' wrists.
Skagen watches are priced just right for people who are looking for elegant, stylish and reasonably high-end timepieces.

Upgraded Smartwatches
Hybrid smartwatches have been occupying the market. You can see its wave will be still around for a long time since even some luxury brands are starting to invest in this field for the young market. 
Skagen too, has been attempting to be a part of the conversation for the best smartwatches in the market. The Skagen smartwatches are simple and customizable with plenty of digital and analog functions in them. To keep it fashionable, there are 14 pre-installed watch faces that you can choose for. 
Skagen smartwatches keep evolving from model to model. They keep the good parts and address the comments from the market. The latest Skagen Falster 3 is a great pick if you need a smartwatch fashionable and functional at the same time. 

Simple Design
Skagen knows well about their target audiences and consumers. The Skagen wearers usually like the 3S of Skagen – simple, sleep and slim. Even the company markets themselves as "clean, uncluttered, and streamlined". To reflect the simplicity of the Skagen town, Skagen offers watches that are simple yet elegant in design, which are perfect as a everyday watch for many occasions.
Because of the similar design style, Skagen watches are often compared with those of MVMT (Movement) and Daniel Wellington (DW). Actually, these three brands use the Japanese movement standard with a minimalistic outlook. However, Skagen offers more diversity in design as well as the higher-end materials. When comparing the materials and quality, Skagen will stand out for sure since they are actually playing on a higher level.

Design Awards
As mentioned Skagen watches feature simple and clean designs. It might sometimes be doubted whether they are really some nice watches. However, Skagen has some solid proof on it. In 2010, two of the Skagen watches received "Red Dot" awards for the production design. These watches were produced for a special event and were respectively the Swiss Movement 585 Series and the Denmark 20th Anniversary 233 watches.
A Red Dot Award is one of the highest recognitions that is selected by acclaimed watch experts. It can be a guide for the consumers to look for a high-valued product. 
The capability of Skagen didn't just stop themselves from one award. The next year of their first award, in 2011, a Skagen Denmark 809 Series sport Watch got another Red Dot Award and in the following 2012, Skagen 234 series line received one more. It is very clear that the design capabilities of Skagen is recognized.

Conclusion

You must have known it clearly that a Skagen watch is not any high-end luxury watch like a Rolex or Omega. However, Skagen still keeps getting great ratings and reviews from their wearers. This award-winning brand is able to continue to grow for one reason: they offer fantastic watches. 
Of course, Skagen is still primarily a fashion watch that you won't find any superb Swiss automatic movements or complex technology in it. You get what you pay for. Their prices are affordable, but the quality won't suffer. 
The Skagen watch is a high-valued fashion watch that will complete your look for everyday occasions. If you're looking for an affordable watch with a specific look, you won't regret getting a Skagen watch to your collection.