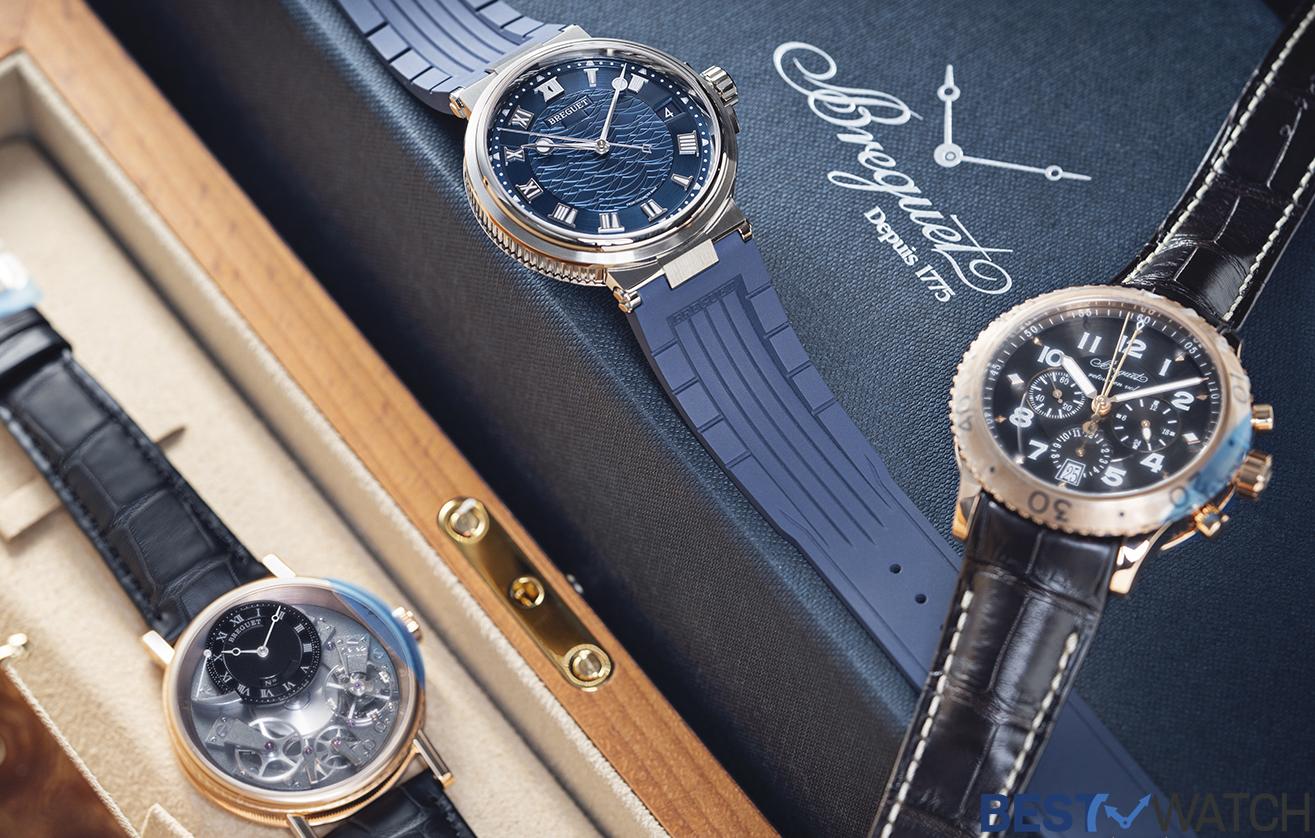 Named after one of the most celebrated watchmakers and inventors, Breguet is a premium Swiss watch brand under the powerful Swatch Group.
Its origins date back to 1775 when the Swiss-born watchmaker Abraham-Louis Breguet established a horology atelier in Paris. His exceptional horological masterpieces were highly sought-after by Parisian high society and the French Court. During his illustrious career, Breguet developed several inventions that contributed significantly to the development of traditional watchmaking. One of his outstanding innovations was the tourbillon, an original and mesmerizing regulator mechanism created to eliminate the effects of gravity.
His eponymous brand remained in the hands of Breguet's descendants until it was sold to the Brown family in 1870. The Chaumet brothers took over the company in 1970. It was then sold to Investcorp in 1987. The Swatch group acquired the House of Breguet in 1999. Under the eminent management of CEO Nicolas G. Hayek, the brand revived its original glory.

Presently, this celebrated company offers fine mechanical timepieces and magnificent jewellery creations. The prominent Breguet watch collections are Tradition, Classique, Classique Complications, Marine, Type XX, Reine de Naples, Heritage and High Jewellery.
Breguet Tradition

This luxurious Swiss watches collection is inspired by the celebrated conscription timepieces designed by Abraham-Louis Breguet. These upmarket and prestigious wristwatches are known for their extravagant decorations, off-entered dials and fully symmetrical mechanical movements visible through the dial side. The notable Gent's models from this exclusive series are 7047, 7057, 7067, 7077, 7097 and 7597. For ladies, the Breguet Tradition line offers gem-set models like 7035 and 7038. These limited edition timepieces are traditionally made with precious metals like gold and platinum.
Breguet Classique

This magnificent collection is typically comprised of classic mechanical wristwatches that blend aesthetic, traditional and technical values of the House of Breguet. For gents, the brand offers references like 5140, 5157, 5177, 5178, 5207, 5277, 5287, 5717, 5727, 7137, 7147, 7337 and 7787. The prominent ladies' wristwatch models from the Breguet Classique series are 9067, 9068, 9087 and 9088. Dressed in precious metal cases, these watches are known for their classic elegance, lucidity and remarkable precision.
Among them, Breguet 5177 offers classic watches with immaculately finished "grand feu" enamel dials in black, white or blue color. The references like 5157, 5140 and 5207 feature dials with guilloche pattern hand-engraved on a rose engine.
Breguet Classique Complications

This extremely fascinating and superlative collection accurately reflects the iconic brand's immense expertise and deep-rooted tradition with more than two centuries of watchmaking legacy. This Grandes Complication series includes superbly executed references like 3355, 3357, 3358, 3795, 3797, 5335, 5345, 5347, 5349, 5359, 5365, 5367, 5377, 5395, 5447, 7637 and 7639. Made of precious materials like gold or platinum, these horological masterpieces represent the pinnacle of Swiss traditional watchmaking.
This range offers a number of ultrathin tourbillon watches. Equipped with self-winding calibers, Breguet tourbillon extra-plat models feature extremely thin case with a thickness of less than 8mm. Notable examples are 5367, 5377 and 5395. Reference 5317 is a self-winding tourbillon watch with an incredible power reserve of 5 days. The models 3355, 3357 and 3358 feature hand-wound movement with a tourbillon complication.
The Classique Complications collection also offers double tourbillon models like 5347 and 5349. The references 7637 and 7639 are minute repeaters. The model 5447 incorporates minute repeater and perpetual calendar with moon phase. The references 3795 and 3797 feature tourbillon and perpetual calendar. These timepieces are equipped with hand-wound mechanical movements.
Breguet Marine

In 1815, Abraham-Louis Breguet was appointed by the King of France, Louis XVIII as Horloger de la Marine Royale (the official watchmaker of the French Navy). The Marine collection is inspired by the chronometers made by the brand's eponymous founder for the French Navy.
Highlighting the brand's nautical heritage and reinterpreted in the contemporary style, this series combines tradition with sporty nature. Important Gent's watches from the Breguet Marine family are Marine 5517, Marine GMT 5857, Marine Chronograph 5527, Marine Musical Alarm 5547 and Marine Tourbillon Equation Marchante 5887. These self-winding timepieces are available in titanium and gold versions.
It also includes some spectacular ladies' watches like 8818, 8827, 8828, 9517, 9518 and the high-jewellery model 9509. The Marine watches are recognized for their bold and sporty aesthetics, splendid decorations and attractive finishing. The most complicated timepiece in the present catalogue is the Marine Tourbillon Equation Marchante reference 5887, which incorporates tourbillon, running equation of time and perpetual calendar complications.
Breguet Reine de Naples

This extremely feminine collection takes inspiration from a mythical timepiece created by Abraham-Louis Breguet in 1812 for Caroline Murat, the younger sister of Napoleon Bonaparte. Boasting sophisticated aesthetics with cutting-edge mechanics, the Breguet Reine de Naples watches spotlight a timeless oval-shaped case made of gold or stainless steel. 
This excellent series offers an impressive selection of nonset, bezel-set and fully paved ladies' wristwatches. Featuring self-winding movements, the distinct features of these timekeepers are their colourful and glamorous dial designs, elongated oval cases, discreet size, unique lugs, gem-set crowns positioned at 4 o'clock and beautiful straps.
Breguet Heritage

Breguet Heritage collection offers fine mechanical timepieces featuring distinctive curved tonneau case made of 18-carat gold or platinum 950. The noteworthy creations from this series are 3661, 5400, 5410, 5497, 8860 and 8861. These mechanical watches come with finely crafted guilloche dials, hand-engraved on a rose engine.
The reference 5400 incorporates a date display at 4.30H, a small seconds dial at 6H and a chronograph with 30-minute and 12-hour totalizers. The model 5410 features a large date window at 12 o'clock and a small-second dial at 6 o'clock. Both 8860 and 8861 are ladies watches and they highlight a beautiful retrograde moon phase display at 1 o'clock on their mother-of-pearl outer dial-ring. Another feminine creation from this graceful line is 3661, which has a small-second dial and a diamond-set bezel. All these Breguet watches are driven by self-winding movements.
Reference 5497 is a hand-wound complication watch from the Breguet Heritage line. It displays a tourbillon mechanism at 6 o'clock, with small seconds on the tourbillon shaft.
Breguet Type XX

This extraordinary wristwatch collection is inspired by the timepieces created in the 1950s for the Aéronavale française (the French naval air arm).
The Breguet type xx series is traditionally comprised of high-performance self-winding chronographs endowed with flyback function and day-night indicator. The notable creations from this acclaimed series are 3810, 3815, 3817 and 3880. These aviation-themed chronograph watches are available in gold, stainless steel and titanium. They are tested for water resistance up to 100 meters.
The flyback chronograph models (3810, 3815 and 3817) feature 42mm diameter case. The reference 3880, which combines flyback chronograph and GMT, comes with a 44mm case.
Read More :